The Oscar Nominated Short Films 2013: Live Action
(2013)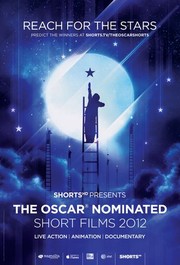 The Oscar Nominated Short Films 2013: Live Action Trailers & Photos
Movie Info
Asad - (director: Bryan Buckley, South Africa) Set in a war-torn fishing village in Somalia, an all Somali refugee cast brings to life this coming of age fable of a Somali boy who is faced with falling into the pirate life, or rising above to choose the path of an honest fishing man. Buzkashi Boys - (director: Sam French, Afghanistan) Set against the dramatic landscape of contemporary Afghanistan and the national sport of Buzkashi - a brutal game of horse polo played with a dead goat - Buzkashi Boys tells the coming of age story of two best friends, a charismatic street urchin and a defiant blacksmith's son, who struggle to realize their dreams as they make their way to manhood in one of the most war-torn countries on Earth. Curfew - (director: Shawn Christensen, USA) At the lowest point of his life, Richie gets a call from his estranged sister, asking him to look after his nine-year old niece, Sophia, for the evening. Death of a Shadow - (director: Tom Van Avermaet, France and Belgium) Soldier Nathan died during World War I. A strange collector imprisoned his shadow and gave him a new chance: a second life against 10,000 captured shadows. It is love that guides him, as his purpose is to meet Sarah again, the woman he fell in love with before he died. But then he discovers that she's already in love with someone else, jealousy clouds his mind and pushes him towards a bitter decision, not without consequences. Henry - (director: Yan England, Canada) Henry, a great concert pianist, has his life thrown in turmoil the day the love of this life, Maria, disappears mysteriously. He'll then discover the inevitable verdict of life. (C) Shorts International
more
News & Interviews for The Oscar Nominated Short Films 2013: Live Action
Critic Reviews for The Oscar Nominated Short Films 2013: Live Action
Audience Reviews for The Oscar Nominated Short Films 2013: Live Action
A wonderful collection of shorts that, for my third year seeing them, seemed a tad high-budget, but all very enjoyable. Also, there was not a comedic entry, which was unusual. All were dramatic and, frankly, depressing. However, the clear winner to me was "Henry." Not only was it the first short film to make me cry, but the story, acting and the way the film progressed and showed his mental deterioration, symbolically represented in lights turning off and moving from room to room, was just brilliant. It was a heartbreaking film and one of the best shorts I've ever seen. "Buzkashi Boys" was probably the best filmed, though, in the heart of Kabul. However, the story was a bit predictable and forced. The acting was so good, though. The unique "Death of a Shadow" was unlike any short I've seen nominated before, with what seemed to be an astronomical budget for such a short film. It almost seemed unfair. The bottom two for me were "Curfew," which is perhaps unfair too as it reflected what I'm used to in short films, which is low-budget, independent, average acting, and the bottom of the list, "Asad." Sadly, preliminary reports indicate "Asad" is the frontrunner. I hope that isn't the case.
2013 is the most solid year for live action shorts I've seen so far. This is a must watch for any film enthusiast.
The Oscar Nominated Short Films 2013: Live Action Quotes
Discussion Forum
Discuss The Oscar Nominated Short Films 2013: Live Action on our Movie forum!
News & Features