The Oscar Nominated Short Films: Animation
(2011)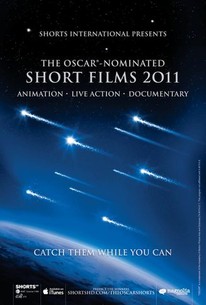 The Oscar Nominated Short Films: Animation Photos
Movie Info
Collective screening of the Academy Award nominated short films from the Animation category for 2011. The nominated Animated Shorts are: DAY & NIGHT; USA; Oscar Nominee: Teddy Newton. When Day, a sunny fellow, encounters Night, a stranger of distinctly darker moods, sparks fly! Day and Night are frightened and suspicious of each other at first, and quickly get off on the wrong foot. But as they discover each other's unique qualities - and come to realize that each of them offers a different window onto the same world - the friendship helps both to gain a new perspective. (6 min.) THE GRUFFALO; United Kingdom & Germany; Oscar Nominees: Max Lang and Jakob Schuh. The magical tale of a mouse who takes a walk through the woods in search of a nut. Encountering three predators who all wish to eat him - a fox, an owl and a snake - the plucky mouse has to use his wits to survive, creating an imaginary monster who then turns out to be all too real. The voice cast includes Helena Bonham Carter, James Corden, Tom Wilkinson, John Hurt, Rob Brydon and Robbie Coltrane. (27 min.) LET'S POLLUTE; USA; Oscar Nominee: Geefwee Boedoe. In the spirit of 50's & 60's educational films, 'Let's Pollute' is a modern satire on how pollution is our heritage and keeps our economy growing strong, while instructing us how to be better polluters for a better blighted tomorrow. (6 min.) THE LOST THING; Australia & United Kingdom; Oscar Nominees: Andrew Ruhemann and Shaun Tan. A boy discovers a bizarre looking creature while out collecting bottle tops at the beach. Realising it is lost, he tries to find out who owns it or where it belongs, but is met with indifference from everyone else, who barely notice its presence, each unwilling to entertain this uninvited interruption to their day to day lives. For reasons he does not explain, the boy empathises with the creature, and sets out to find a 'place' for it. (15 min.) MADAGASCAR, CARNET DE VOYAGE (MADAGASCAR, A JOURNEY DIARY); France; Oscar Nominee: Bastien Dubois. A visual travel journal demonstrating the importance of dance, death, and traditional customs present and vibrant in the Malagasy society. (11 min.) Additional films in the theatrical program (Not among the nominated) URS (Moritz Mayerhofer, 10 min.) THE COW THAT WANTED TO BE A HAMBURGER (Bill Plympton, 6 min.) -- (C) Magnolia
Rating:
NR
Genre:
,
Directed By:
In Theaters:
Runtime:
Studio:
Critic Reviews for The Oscar Nominated Short Films: Animation
Audience Reviews for The Oscar Nominated Short Films: Animation
Great films. "Let's Pollute" probably doesn't deserve to be there. "The Lost Thing" and "Day & Night" are definitely the strongest. "The Cow that wanted to be a Hamburger" is shown in this group and should have been nominated.
Slappy McGee
On the whole, I was very disappointed with these. Madagascar included some imaginative animation, but was little more than an overview of a countryside. Let's Pollute was just plain terrible, in-your-face, message-driven garbage. It was too obvious and dull even for children; the simplicity of the message was surprising, and better suited for the 70s or 80s before the "green" movement really came about. And the animation itself wasn't anything interesting or new. Just a really poor, thoughtless short film. The Gruffalo was horribly boring because it was a pure reincarnation of the children's book. It was too slow, too predictable, and childish to be enjoyable by any intelligent adult. The animation was, at least, fairly interesting in spots. The Lost Thing was clearly the best of the pack, and what I predict will win the oscar in this category. Both humorous and poignant, its environment was filled with the small details. This is what animation is about; transporting us to a vivid environment that is not simulating reality, but enriched because it's not reality. And best of all, its message was subtle in comparison to these others. Day and Night is of course Pixar, so I naturally have to root against it, since Pixar is now "The Man" of animation and this category in particular is supposed to be for upstarts and little ones. So I hope this amusing-but-not-great short doesn't win, but if "The Lost Thing" doesn't, this will. The other three, if the academy has any reason at all, don't stand a chance. Here are my individual ratings. I promise it's an accident that "4" happens to be the average of these numbers, on the dot. Madagascar: 3 Let's Pollute: 1 The Gruffalo: 3 The Lost Thing: 7 Day and Night: 6
Brandon Haffner
The Oscar Nominated Short Films: Animation Quotes
There are no approved quotes yet for this movie.
Discussion Forum
Discuss The Oscar Nominated Short Films: Animation on our Movie forum!