The Other Side of the Ice
(2013)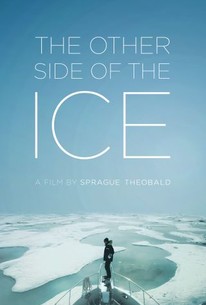 The Other Side of the Ice Videos
The Other Side of the Ice Photos
Movie Info
Sprague Theobald, an award-winning documentary filmmaker and expert sailor with over 40,000 offshore miles under his belt, always considered the Northwest Passage--the sea route connecting the Atlantic to the Pacific--the ultimate uncharted territory. Since Roald Amundsen completed the first successful crossing of the fabled Northwest Passage in 1906, only twenty-four pleasure craft have followed in his wake. Many more people have gone into space than have traversed the Passage, and a staggering number have died trying. From his home port of Newport, Rhode Island, through the Passage and around Alaska to Seattle, it would be an 8,500-mile trek filled with constant danger from ice, polar bears, and severe weather. What Theobald couldn't have known was just how life-changing his journey through the Passage would be. Reuniting his children and stepchildren after a bad divorce more than fifteen years earlier, the family embarks with unanswered questions, untold hurts, and unspoken mistrusts hanging over their heads. Unrelenting cold, hungry polar bears, and a haunting landscape littered with sobering artifacts from the tragic Franklin Expedition of 1845, as well as personality clashes that threaten to tear the crew apart, make The Other Side of the Ice a harrowing story of survival, adventure, and, ultimately, redemption. (c) The Orchard
Rating:
NR
Genre:
,
Directed By:
Written By:
In Theaters:
Runtime:
Studio:
Critic Reviews for The Other Side of the Ice
Audience Reviews for The Other Side of the Ice
Loved this movie! What an adventure, both fun and dangerous. The viewer is torn between wishing to be on the journey and glad not to be. Sprague Theobald's fragile, emotional state was very real and warranted. He and his family had the guts to take a huge risk in challenging the Northwest Passage. The beauty of this film is that it invites all of us to experience the challenging, dangerous journey with the Theobald family, without risk. We were glued to the screen during this real life triumph, which could have ended tragically. The photography/scenery was beautiful and introduced us to a part of the world that most of us will never visit. A five star documentary!
Mary Gieselman
In this modern world of "fake" adventure and contrived dangers, there aren't many exploits which can turn heads and be called "real" and "authentic". Taking a small boat to sea is about as real as it gets and taking that same boat thru the Northwest Passage is off the charts real. Sprague did it and he did it with a background of money issues, personal challenges and unexpected family dynamics and difficulties. When the weather closed in, there were several times that Sprague and his crew of family members had no "plan B". I am not the first post on this site and I see that others have complained about the bickering and squabbling that is shown in the film. Yep.. it is there. How could it not be? Try imagining yourself in a situation where 6 of your family members are cooped up on a 57 foot boat for weeks on end.. and then toss in danger and uncertainty. The family dynamics add to the drama and the spectacular scenery and the rawness of the film make it spellbinding and unforgettable. I absolutely loved it and my only complaint is that it wasn't longer.
Dan Streech
In his documentary Sprague and his crew do a wonderful job of capturing the challenge, beauty and isolation of their journey through Northwest Passage and the emotional impact of the long months spent together aboard their 57 foot vessel with little outside human interaction. A must see!
Pierre Irving
Discussion Forum
Discuss The Other Side of the Ice on our Movie forum!
News & Features