The Outfit
(1974)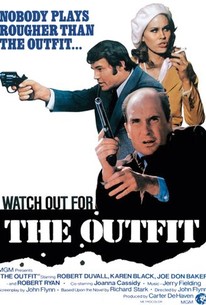 AUDIENCE SCORE
Critic Consensus: No consensus yet.
Movie Info
A two-bit criminal takes on the Mafia to avenge his brother's death in this drama based on a novel by Donald E. Westlake. Earl Macklin (Robert Duvall) is a small time criminal who is released from prison after an unsuccessful bank robbery only to discover that a pair of gunmen killed his brother. As it turns out, the bank that Earl and his brother hit was controlled by gangster Mailer (Robert Ryan). Macklin learns that he's on the mob's hit list as well, so he teams up with his old partner Cody (Joe Don Baker) to take on Mailer and his second in command, Jake Menner (Timothy Carey). The Outfit also features a top-notch supporting cast, including Karen Black, Sheree North, Joanna Cassidy, Richard Jaeckel, and Anita O'Day; Marie Windsor and Elisha Cook, Jr. also appear, 18 years after their memorable turn together in The Killing.
Audience Reviews for The Outfit
A great film adaptation of a great picaresque novel and a great buddy movie that director John Flynn made with the members of Don Siegel and Clint Eastwood family.
Naoya Kugimiya
½
Another interesting (yet still not 100%) version of the Parker character from Donald Westlake brought ot the big screen, this is nevertheless a fun watch as 'Macklin' seeks revenge on his brother's killers. Well worth a look, give that mother a rental if you have the chance.
Bill Bryant
½
Guess you guys don't get robbed much. Earl Macklin and Jack Cody are like brothers and both are small time crooks. Macklin is released from jail and discovers his brother was killed after a recent robbery by the owners of the money. Macklin goes on a robbery spree of his own with Cody's help. Eventually, Cody and Macklin will seek revenge for the brother's death. "We got a problem." "Nope. You got a problem." John Flynn, director of Brainscan, Out for Justice, Lock Up, Defiance, Rolling Thunder, and Touched, delivers The Outfit. The storyline for this picture is very good and honestly reminded me of a Martin Scorsese pictures from this era. The action scenes are very good and the characters are well written and wonderfully delivered. The cast includes Robert Duvall, Karen Black, Joe Baker, Robert Ryan, Tim Carey, and Sheree North. "The outfit is going to break his ass." I recently DVR'd this picture off a Turner Classic Movies (TCM) Robert Duvall marathon. I was surprised I had never heard of this picture and found the film very entertaining. The entire film corkscrews in numerous directions and the end wraps the film up perfectly. I strongly recommend seeing this picture! "You shouldn't use a girl's arm as an ashtray." Grade: A-
Kevin Robbins
The Outfit Quotes
There are no approved quotes yet for this movie.
Discussion Forum
Discuss The Outfit on our Movie forum!