The Pajama Game
(1957)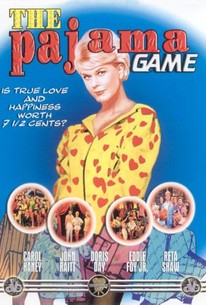 Movie Info
The Broadway musical Pajama Game was based on Seven and a Half Cents. a comic novel about labor relations written by Richard Bissell. Doris Day stars as an employee at a pajama factory who becomes the spokesperson for her fellow workers when management refuses to give them a 7 1/2 cent raise. Complicating matters is the fact that Management is represented by handsome John Raitt, who happens to be in love with Day. A subplot involves Day's freewheeling co-worker Carol Haney and her insanely jealous boyfriend, factory-manager Eddie Foy Jr. Many of the cast members from the original Broadway production (Raitt, Haney, Foy, Reta Shaw, Peter Gennaro etc.) are retained for the film version, as are most of the Richard Adler/Jerry Ross songs: highlights include "Hey There", "Steam Heat", "Hernando's Hideaway", "There Once Was a Man". and the title song. The choreography is in the capable hands (and feet) of Bob Fosse. Pajama Game performed so well at the box-office that Warners immediately went to work on the filmization of the second (and last) Adler/Ross Broadway collaboration, Damn Yankees.
Critic Reviews for The Pajama Game
Audience Reviews for The Pajama Game
A Union With Doris Day Can't Be Communist! This is one of those rare shows--one I've seen live. Oh, it was a very long time ago. Eighth grade, if I remember correctly. The Pasadena Civic Auditorium gave out tickets to a couple of shows that year; the school music programs around town were, I guess, used as audience filler on weeknights once or twice. I also, if I remember correctly, saw Rex Harrison's son in [i]My Fair Lady[/i]. Obviously, the version of [i]The Pajama Game[/i] didn't star Doris Day, or even one of her relatives. However, I do remember enjoying it, and I'm pretty sure it's one that Mom liked quite a lot. At any rate, she didn't dislike it enough to complain about a show she'd gotten to see for free, which counts for something. Actually, I think Mom liked it even before we saw it. It would not, in fact, surprise me to know that she had seen the movie when she wasn't much older than I was when we saw the show. All the various main characters work at the Sleeptite Pajama Factory. A new supervisor, Sid Sorokin (John Raitt), has just been hired. He ends up meeting the union's grievance committee, which is one person--Katherine "Babe" Williams (Doris Day). They fall for one another in the ridiculously rapid way of musicals. The only problem is, she's union and he's management. He has been hired in the middle of conflict between the union and company owner Myron Hasler (Ralph Dunn). The union wants the seven-and-a-half-cent hourly raise that other garment manufacturers in the area have gotten, and Hasler doesn't want to give it to them. They call for a slowdown. Sid threatens to fire people. Babe breaks her sewing machine, then cops to it; Sid has to fire her. Only Sid thinks the difficulties between management and labour are bad for everyone, so he's trying to find a way around it. And if they can rehire Babe, that wouldn't be too bad, either. I don't get to be surprised by treatment of women in things from this era anymore; I know that. However, the relationship between Gladys Hotchkiss (Carol Haney), the boss's secretary, and Vernon "Hinesie" Hines (Eddie Foy, Jr.), the timekeeper, makes me decidedly uncomfortable. Okay, so he's jealous all the time for no good reason. (To emphasize the "no good reason" part, more recent versions have given the number "Steam Heat" to Mae [here Thelma Pelish] instead; she also has a reason to be at a union rally.) This is a thing that happens. But I think everyone is a little too comfortable with the fact that he's throwing knives at her. I mean, no, they're not actually comfortable with it, but the closest we ever get to an indication that maybe someone should file charges is at the end, when they are shown wearing matching striped pajamas that look like the clothes we think prisoners wear. It isn't even as though Gladys is the only one in danger. It's hard to believe much of anyone would be so forgiving just because Gladys stayed with him. It could be just me, but I also find it somewhat surprising that we have a movie (and before it, as I said, a musical) that wholeheartedly endorses the union. It's sad that Babe and Sid split up through the middle of the story over the conflict between management and labour, but Babe isn't shown as in the wrong. Oh, neither is Sid, but still. What the union fights for is important--and, in case you miss the heavy foreshadowing, it's not as though management is completely blameless in the situation. It's implied that labour would be willing to cooperate, but that really does take both sides, and for much of the story, management won't even sit down at the table. Yes, we do get the lesson that none of these people would get by if they didn't have the jobs the company provides, but we also know that the company would fail if it didn't have the workers. It's impressive, really; the whole thing is shown as a two-way street, and that's still unusual, much less in 1957. I have seen worse Doris Day musicals. I'm not sure I would go out of my way to watch this again, but then, I didn't exactly go out of my way to see it this time, either. I think it's a historical curiosity, but for all my love of the genre, this is just a poor example. To be perfectly honest, I don't think the '50s were the best decade for musicals. I know--you're going to mention [i]The King and I[/i]. If you're an utter theatre geek, you may even point out that [i]The Sound of Music[/i] had its Broadway debut in 1959. And, of course, there's [i]My Fair Lady[/i] in 1956. Well, guess what? I don't like [i]The King and I[/i] or even [i]The Sound of Music[/i]. (I guess you've mostly got me on [i]My Fair Lady[/i].) However, I think the problem here is that it was such a [i]tame[/i] decade in so many ways. Yes, okay, [i]West Side Story[/i] opened in 1957. But in a way, that's my point. There's a lot to that show that I love, but it's still a relatively tame telling of its story. As Sondheim--and Bob Fosse, whose first choreography was for this--came into his own, musicals were allowed to have depth again.
Edith Nelson
I want all of the girls dresses!!!!!!! it made me jealous watching...... Besides that the movie was good, but not amazing, it was funny, but i think maybe it was missing a little something.
Brynn Harvie
Doris Day is really cute in this. It is not one of my favorite musicals but it has it's good points, like Steam Heat and Hernando's Hideaway. I'm somewhat sad that there is not more signature Fosse choreography but overall the dance and movie are fun.
J Fitzgerald
The Pajama Game Quotes
There are no approved quotes yet for this movie.
Discussion Forum
Discuss The Pajama Game on our Movie forum!