The Parking Lot Movie
(2010)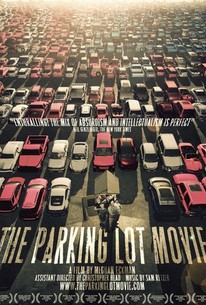 The Parking Lot Movie Photos
Movie Info
The Parking Lot Movie is a documentary about a singular parking lot in Charlottesville, Virginia and the select group of Parking Lot Attendants that inhabit its microcosm. The Attendants are a uniquely varied group of men comprised of both undergraduate and graduate students, philosophers, intellectuals, musicians, artists, and marginal-type characters. Three years in the making, this documentary is a strange rite of passage for all involved. Themes receiving daily scrutiny and detailing include cars and license plates, capitalism, anger, justice, drunkenness, spiritual awareness, class struggle, entitlement, and working in the Service Sector. These all mesh together in the orbit of the Parking Lot Attendant. For these Parking Attendants, the intersection between the status quo and the quest for freedom becomes the challenge. Something as simple as a parking lot becomes an emotional way station for The American Dream. As one Attendant interestingly puts it, "We had it all in a world that had nothing to offer us." -- (C) Official Site
Critic Reviews for The Parking Lot Movie
Audience Reviews for The Parking Lot Movie
A surprisingly remarkable documentary about the observations and philosophies surrounding the employees of a pay parking lot. A bare bones social study of human behavior towards certain professions, those of the parking lot and those who pay for parking. From drunk frat dudes vandalizing property, to people driving luxury vehicles arguing over paying 50 cents. People who get treated like shit at work will eventually take it out on whom they see as inferior, such as parking attendants. An "Us vs. Them" logic given on one account after another by college dropouts, struggling musicians, and philosophers with a "why bother" attitude towards any type of career. Well done.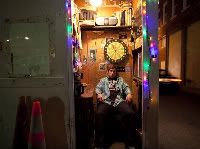 El Hombre Invisible
Super Reviewer
This was one of the most fascinating documentaries I have ever seen. Centered on the Corner Parking Lot in Charlottesville, Virginia, the film includes a bevy of attendants' interviews for this three year long trek through the crazed philosophical quandaries of the lot. A microcosm of socio-economic turmoil, the attendants relate to customers and other employees with their experiences as attendants. Most are highly educated, students, professors, or just interesting people with broadened minds. Director Meghan Eckman interviews past and present members of the CPL to draw a full portrait of what really goes on in this environment. At first you find their devotion to the lot as pitiful, but as the movie develops you empathize with all people in service sector jobs. The funniest parts include the attendants' rants about the various types of people who annoy them, and sometimes downright anger them. These can include everyone from frat boys and sorority girls to the drivers of SUVs and Hummers. There's also the absurdity of people driving off without paying and people who break the gate leading into the lot, a lofty twenty dollar fine. It becomes even more fascinating when they begin speaking about the different makes and models of cars, and remembering license plates to give to the cops in case someone skips the bill. There are even filmed scenes of fights between drivers and attendants. Watch until the very end in order to enjoy a wonderful music video, and updates on attendants, one of which is the bassist for Yo La Tengo.
Spencer S.
Super Reviewer
The Parking Lot Movie Quotes
There are no approved quotes yet for this movie.