The Penitent Man
(2010)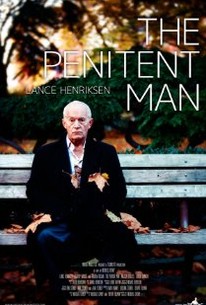 AUDIENCE SCORE
Critic Consensus: No consensus yet.
Movie Info
The Penitent Man tells the story of psychologist Dr. Jason Pyatt, a man devoted to his work - a man torn from his family. With his struggling marriage and mounting bills, Jason is at a crossroads with the life he has chosen and the life he could have. When one of his clients - the mysterious Mr. Darnell - walks into his office and paints him a repentant tale of future economic and moral collapse, Jason's eyes are forever opened. With the help of his best friend Ovid, he embarks on a personal mission to change the course of his future, and possibly the world, forever.
Critic Reviews for The Penitent Man
There are no critic reviews yet for The Penitent Man. Keep checking Rotten Tomatoes for updates!
Audience Reviews for The Penitent Man
If you're at least as attentive as a goldfish, you'll have this entire movie figured out in the first ten minutes. It is an actionless film about the mysteries of life that is somehow devoid of mystery and yet painfully continues to run without anything resembling a surprise in store, divulging all the grandiose answers to "how to live your life" in a series of college-freshman level ethics essays transmogrified into dialogue. This is one of the very worst movies I have ever seen.
Regan Campbell
I really wanted to like this, but there was just so much cheese. Great handling of timeline and good pace revealing the details, but everything was revealed in a bit of a heavy handed way. It is quite rare to see an American movie without a happy ending (my take). I dont know if it's Lathrop Walkers acting or the lines he had to deliver, but he came off, to me, as a daytime soap opera actor. Henriksen gave a great performance, but his lines were only a little better. The relationships between the characters seemed hollow or superficial, like something out of a bad, early 90s flick. Lots of questions remained unanswered and the conclusion was disappointing. I think my biggest problem with this movie is that the subject is so complex and has so much potential, but the story mainly tries to simplify what might be confusing. You dont always have to spell everything out to the average Joe/Jane. Let people get curious and start asking questions.
S G
The Penitent Man Quotes
There are no approved quotes yet for this movie.
Discussion Forum
Discuss The Penitent Man on our Movie forum!