The Perfect Family
(2012)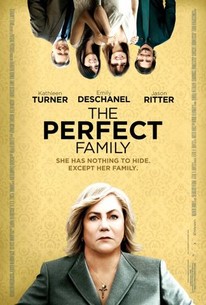 The Perfect Family Videos
The Perfect Family Photos
Movie Info
The Perfect Family stars Kathleen Turner as suburban mother and devout Catholic Eileen Cleary, who has always kept up appearances. When she runs for the Catholic Woman of the Year title at her local parish, her final test is introducing her family to the board for the seal of approval. Now she must finally face the nonconformist family she has been glossing over for years... -- (C) Variance Films
News & Interviews for The Perfect Family
Critic Reviews for The Perfect Family
Audience Reviews for The Perfect Family
½
I actually liked this a little more than I thought I would. I can't help feel that it would have been a better movie without Kathleen Turner, though....
Cynthia S.
Super Reviewer
The Sin of Pride My mother is Catholic. I was raised Catholic myself. This means, in practical terms, that my mother expects certain things of me and sometimes literally does not believe that they are otherwise. I don't know if it's why I don't always try to convince her otherwise; it has generally seemed to me to be easier not to say anything and let her believe what she wants if her belief won't change how I live my life anyway. I think this is one of the reasons I liked this film more than the average. Yes, it's painful in some ways, but I also understood it better. Mom knew pretty quickly that she didn't have a perfect family; if you include her siblings, she knew it well before I was born, much less by the time my own issues first became apparent. However, no one is going to nominate my mother as having a perfect Catholic family any time soon, and I'm sure she knows that much, at least. Eileen Cleary (Kathleen Turner), however, is even better at ignoring her family's failings than my mother. What's more, Eileen is one of those people who does everything around the church. She drives for Meals on Wheels. She goes to mass every day, even Confession. Not only does she go to mass, she serves at mass. She does so much, in fact, that Monsignor Murphy (Richard Chamberlain) nominates her for Catholic Woman of the Year. Sister Joan (Rebecca Wackler), however, nominates Agnes Dunn (Sharon Lawrence), more vocally pious but less actually helpful. Eileen and Agnes have been in competition their whole lives. This time, it is implied that the decision will come down to how good their families are as well. Unfortunately, Eileen's husband, Frank (Michael McGrady), is a recovering alcoholic. Her son, Frank, Jr. (Jason Ritter), "had" to marry his now-wife, and he is leaving her and the kids for a cosmetologist. And "worst" of all, her daughter, Shannon (Emily Deschanel), is a pregnant lesbian about to marry her girlfriend. I'm torn between amusement and sorrow that Shannon is five months pregnant and hasn't told her family about either the baby or her soon-to-be-wife, Angela (Angelique Cabral). She was waiting for the right time, and that right time was taking its own sweet time in coming. As it is so often wont to do, of course. Angela's family knows and supports her, being rather more American Catholic than Eileen is. (American Catholics are more likely than Catholics elsewhere to be socially liberal.) However, I also believe that Angela already knew that about them before she told them, which made the whole thing easier. Shannon knew how her mother would react--I was at least as pregnant as she with my daughter when I told my mother, and that only because she was coming up to visit me and would figure it out whether I told her or not--and so basically chose not to tell her. Her mother's beliefs taught that she was wrong, and her mother didn't bother to question them even after it was obvious that it was hurting her daughter. Frank, Jr., seems rather more of an unpleasant character all the way 'round, to be honest, though I wonder how much of that is his displeasure at having been trapped in a marriage he didn't want. The implication I got was that he and his wife had sex once. She got pregnant. He married her because he'd been taught that he had no other options. Doubtless she married him for the same reason. Their happiness was, of course, never part of it, any more than Eileen worried about her own happiness when deciding to stay with a drunken husband. I suppose the reason I liked Shannon so much was that she didn't let what other people told her was right prevent her from doing what she thought was right; Frank, Jr., couldn't yet figure out how to do that. That's enough to make pretty much anyone be unpleasant, especially when he sees his mother getting an award for the whole thing. She's being honoured for what he sees as ruining his life. I'll admit I rather dislike that the nun is the one looking for vocal piety without worrying about good acts. Not only is it against Catholic dogma, the recent events in the Church have rather indicated that it's nuns who are more aware of that. And, yes, part of it is the joke of having now-openly gay Richard Chamberlain be an important voice for the parish. I get that; I really do. And there is something to be said that the unexpressed theme of the movie is that Catholic women willingly participate in their own oppression--the secret of Eileen's hysterectomy is supposed to be a surprise, but it rather wasn't. What she does is what's expected of her, but she is able to make her own decision when she absolutely has to. She is a good woman who has spent too much time listening to people who are more interested in vocal piety than in good works. While she is praised by some for her actions, it's also not surprising that others prefer Agnes Dunn.
Edith Nelson
"The Perfect Family is like so many other family films that I have seen dealing with religion, having a gay/lesbian child and of course the one screw up. I thought that maybe I would see some originality with this film, but not so much. The story has been done. This one is a bit different except it has the same conclusion as the one's that have come before it. The mother is stricken with guilt over the sins she has commited in her past and present. She is in constant denial about the choices her family has made about their own lives and continues to live in this bliss until it all comes crumbling down around her. The acting was semi good. Nothing to write the award shows about. So in the end it was just OK for me."
♥˩ƳИИ ƜѲѲƉƧ♥
Super Reviewer
The Perfect Family Quotes
| | |
| --- | --- |
| Eileen Cleary: | I don't have to think! I'm a Catholic! |
| | |
| --- | --- |
| Eileen Cleary: | It's a sin to boast. |
Discussion Forum
Discuss The Perfect Family on our Movie forum!