The Perfect Stranger (El Perfecto Desconocido)
(2011)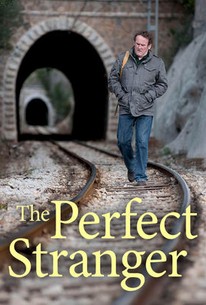 AUDIENCE SCORE
Critic Consensus: No consensus yet.
The Perfect Stranger (El Perfecto Desconocido) Photos
Movie Info
The apathetic residents of a secluded Spanish village welcome a foreigner they believe is planning to open a local shop, but slowly learn that they have misinterpreted his true intentions in this gentle comedy drama staring Colm Meaney. Mark O'Reilly (Meaney) shows up in a small Majorca village unable to speak a word of Spanish, and hoping to go unnoticed. Meanwhile, as the locals do their best to lend Mark a helping hand, the quiet newcomer focuses his attentions on an old Polaroid that holds a key to his tragic past.
Rating:
NR
Genre:
, ,
Directed By:
Written By:
Runtime:
Studio:
Critic Reviews for The Perfect Stranger (El Perfecto Desconocido)
There are no critic reviews yet for The Perfect Stranger (El Perfecto Desconocido). Keep checking Rotten Tomatoes for updates!
Audience Reviews for The Perfect Stranger (El Perfecto Desconocido)
I quite liked this movie. It's certainly quieter and more relaxing than most films of this ilk, but that doesn't make it any less good. The film doesn't focus on the cultural differences between Marco and the people of the village he's visiting. The thing it does focus on is the fact that Marco, who's named this way because Biel misunderstands his name, cannot understand spanish and yet he still connects with some of the people in the village and becomes close with two of them, who really needed him at that particular point in their lives. I thought that was good and it was well-done, in some cases you can connect with a person even if you don't speak the same language. I also found Marco's reasons for returning to the village to be quite intriguing and, when it's revealed at the end, ultimately bittersweet. I did find that the third act to be a little too dramatic for my tastes, and it did away with the low-key tone the film had mantained until that point. I thought it was still good, but I liked the other 2 acts of the film much more. This is still a good movie however, it's thoughtful and smart with some very sweet moments. It's got a great cast too, so that doesn't hurt either.
Jesse Ortega
Super Reviewer
One line summary: Simple, beautiful story executed with compelling direction and acting. ----------------------------------------------------------- Mark walks into a small town in Spain. In the town square, he opens an old shop for which he has keys. Biel wounds his hand, gets help from Mark, then asks for a job repairing things in the shop. Celia hides from the cops in his shop for about five minutes one day. Later, he helps patch her up after someone punches her in the face. Mark does not speak Spanish. Next to no one in the town has any English. This makes for some interesting interactions. Mark is looking for something in the surrounding countryside. He mounts a large topographical map on one of his walls. He makes notations at the places where he has visited. The people in the town come up with a variety of explanations of Mark's presence. Celia makes some progress in teaching Mark Spanish in exchange for temporary shelter and meals. Klaus, the violin player, on the other hand, speaks German and not as much Spanish. The two cops are trying to figure out what Biel and Celia are doing while spending time with Mark. It was a lovely moment when Biel fixes the tap, which used to turn out the lights. People bring all sorts of things to Mark's establishment, thinking the objects will be directly applicable to his business. Together with Biel's work, the place starts to look rather nice. Mark's quest starts to look more coherent on the map. The cops finally ask for ID after they ask the local realtor about sales; there were none. They never get around to asking how Mark got the key to the place. While at the police station, Mark sees a photo of a man at a place he sort of recalls; the police help him find where it is on a map. Celia fails her physical since she has an inherited pulmonary problem. She had intended to work on tanks in the armed forces. She gets in a row with her father, and punches the cop who thinks he is her boyfriend. The cop gives chase; the next morning she's missing. Biel looks for her. Mark seems to be very close to finding what he was looking for. When Biel lets Mark know that Celia has gone missing, Mark immediately joins the search. Will they find Celia? Will Mark find what he was looking for? -----Scores------ Cinematography: 10/10 No problems. Sound: 10/10 Good. Acting: 10/10 Colm Meany at his best, and his best was very good. Fine supporting actors. Screenplay: 10/10 Lovely story, with just the right level of resolution. The communication accomplished against language barriers was exceptional between the mature, compassionate older man and the two young people.
Ed Collins
½
The subject matter is familiar, but its humble ambitions rings true and Meaney's effortlessly understated performance conveys bafflement and amusement with just the right gestures and glances.
Lee Mayo
The Perfect Stranger (El Perfecto Desconocido) Quotes
There are no approved quotes yet for this movie.
Discussion Forum
Discuss The Perfect Stranger (El Perfecto Desconocido) on our Movie forum!