The Perfect Wave
(2014)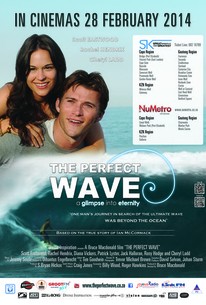 AUDIENCE SCORE
Critic Consensus: No consensus yet.
Movie Info
"The Perfect Wave" is the true story of Ian McCormack who grew up surfing the waters of New Zealand. Wanting to dive deeper, Ian sets out on a journey with his best friend that will change his life as they chase the perfect wave.Travelling through Australia, Southeast Asia, and Africa, they surf incredible breaks and adventure, looking for the force that drives the world. When Ian meets Annabel, a striking and kindred soul, he abandons his friend on a new quest of love and ecstasy. Jealousy overtakes their love. Broken by his own soul, Ian chases her to an island paradise to win her back. (C) Official Site
Rating:
PG
Genre:
,
Directed By:
In Theaters:
On DVD:
Runtime:
Studio:
Critic Reviews for The Perfect Wave
All Critics (3) | Top Critics (2) | Fresh (0) | Rotten (3)
Unfortunately, it's not enough to resurrect this film that boasts lots of message but very little plot and character development.
Chicago Sun-Times
Top Critic
Christian moviegoers will no doubt appreciate a family-friendly movie with a message they can endorse. But it's going to take more than pretty pictures to convert doubters.
Washington Post
Top Critic
Any sense of flair introduced by the surfing scenes is undone by the clichéd story.
Independent Online (South Africa)
Audience Reviews for The Perfect Wave
½
Heartfelt performances with a limited depth, its a story based on true events of a surfer travelling the world, searching for his own souls peace, and of the family supporting him thru his adventure. Decently filmed surf montages support the thoughtful tone of the film. Lovingly directed, the story is an adventure but becomes more of a journey of self discovery, and finding ones own faith. Above all else, I fully enjoyed Cheryl Ladd as the praying mother over the cool yet unambiguous surfer dude son in Scott Eastwood. Surprisingly honest portrayals by the main characters, but some scenes are undone by the minor players, a common foible of low budget films with inexperienced, unskilled actors. I did like finding out in the DVD extras that this story is based on the testimony of a pastor. This detail helped me enjoy this film a full star more - Reality allows for gaps in the story and gives credence to coincidence - bc reality is Often stranger than fiction. It is otherwise a bit clumsy as a fictional script, despite the grounded family drama. All included, this is an enjoyable, refreshing effort. The diary of a surfer with enough depth to satisfy tv and cable audiences, but maybe not quite strong enough for the bigger screen. Great for an afternoon or evening together with the family and especially good for a date - compelling story, solid lead performances, and no language or offensive material. Also dont forget the A+ DVD extras, as long as your date enjoyed the movie..lol 3.5 surf-worthy waves out of 5
Thomas Porter
½
I was enjoying it but then the in last 20 minutes the movie took a dramatic turn from a movie about a man's desire to catch the perfect wave, into a direct and unashamed attempt at converting viewers to religion. At that point I almost turned it off !
Katherine Soriano
½
Perhaps I was more aware there was Scott Eastwood than it was indeed a missionary film. The square narrative is uncomfortable yet boring to watch. The religious thing (especially in the last 30 minutes) gave me nothing but creep.
WS Wu
The Perfect Wave Quotes
There are no approved quotes yet for this movie.