Warrior King 2 (The Protector 2)
(2014)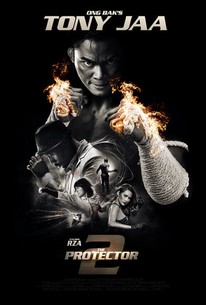 Warrior King 2 (The Protector 2) Videos
Warrior King 2 (The Protector 2) Photos
Movie Info
Boss Suchart is the influential owner of a major elephant camp. When he was murdered in his own home - the killer delivered three fatal blows on his body - all evidence points to KHAM (Tony Jaa), who was present at the crime scene and was seen with the victim the moment before he died. Kham is forced to run as the police launch a pursuit. Meanwhile, the twin nieces of Boss Suchart (Jija Yanin Wismitanan and Teerada Kittisiriprasert) are out for revenge. But luck is on Kham's side when he runs into Sergeant MARK (Mum Jokmok), an Interpol agent sent to Thailand on a secret mission. As Kham is hunted by several parties, he's also desperately searching for KHON, his elephant, whose disappearance is involved with Boss Suchart's death. In another twist, Kham is drawn into an underground fighting ring run by LC (RZA), a crime lord who's obsessed with collecting top-class martial artists from around the world. LC's fighters are branded only by numbers, such as the lethal, beautiful TWENTY (Ratha Pho-ngam) and the diabolical NO.2 (Marrese Crump). These fighters are ordered to defeat and capture Kham for a special mission that LC has in mind. A sequel of the global smash-hit The Protector (Tom Yam Goong), THE PROTECTOR 2 is an extreme fight movie, an endlessly intense, nerve-racking film full of fists, elbows, kicks and daredevil stunt scenes and amazingly choreographed fighting moves that will pump hot blood through the body of all action fans.(C) Magnolia
Rating:
R (for violence and language)
Genre:
,
Directed By:
Written By:
In Theaters:
On DVD:
Runtime:
Studio:
News & Interviews for Warrior King 2 (The Protector 2)
Critic Reviews for Warrior King 2 (The Protector 2)
Audience Reviews for Warrior King 2 (The Protector 2)
The Protector 2 contains some fun action scenes but its pretty much devoid of a plot, bad acting, bad dialogue and almost insultingly lazy special effects.
Daniel Leon Benavides
Lacking in story. Horrific cg. Motorcycle fight scene on roof top was maybe the worst and dumbest fight scene in history. Fight scenes in the last 1/3 of the film made film at minimum watchable. Classic example of how a poor budget can turn what should be a 5 star movie into a real crapper.
damien carter
½
Uh oh. Where have you been Tony Jaa? I swear I heard something about his withdraw from society and time away from the movie business, but this might be one of those times he should have stayed hidden. From what I remember about the first film, there were a few good fight scenes, decent editing and sub par acting. When you take nearly all those things and throw them out the door and add horrible dialogue, acting and cinematography on top of that, you have a disaster. A laughable disaster. It was so obvious in some of the fight scenes how slow and calculated certain punches were. RZA is awful, but he must feel like he needs to add his stamp on any martial arts flick as the bad guy. Perhaps he is just having fun in this funny movie. And the main story being about an elephant's kidnapping? There just wasn't anything substantial in this film.
Lane Zieben
Super Reviewer
Warrior King 2 (The Protector 2) Quotes
There are no approved quotes yet for this movie.