The Pruitt-igoe Myth: An Urban History
(2012)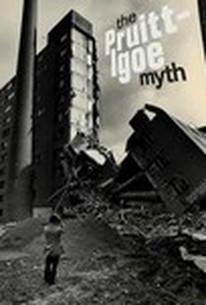 The Pruitt-igoe Myth: An Urban History Photos
Movie Info
Filmmaker Chad Freidrichs attempts to dispel the myths surrounding St. Louis' Pruitt-Igoe housing project by examining the rise and fall of the once-promising development within a historical context. Constructed in 1956, Pruitt-Igoe offered people who once lived in poverty the change to enjoy modern living in a convenient urban setting. But by the late 1960s Pruitt-Igoe was overrun with crime, and the following decade it was demolished. As a result, Pruitt-Igoe is often cited as an example of both failed Modern Architecture and public planning. By looking a bit deeper and examining the circumstances surrounding the fall of Pruitt-Igoe, however, Freidrichs posits that those who perpetuate these arguments may be missing some crucial components of the big picture.
Critic Reviews for The Pruitt-igoe Myth: An Urban History
Audience Reviews for The Pruitt-igoe Myth: An Urban History
I really liked this documentary. Great for sociology majors! Excellent look into all perspectives on this....lets you get a good perspective on urban sprawl, projects, inner city living, and a great array of personal stories. Sad story but definitely interesting...if you like documentaries....definitely put this on your list!
Dawn ??????
Great documentary about what went on in the Pruitt-Igoe projects. The story revealed many of the policy flaws and lack of long-term planning involved in the enormous buildings. I read about them in urban planning school, but it's nice to see them up close in video.
William H.
½
I really enjoyed this documentary and how it debunks many of the preconceptions or rash conclusions that some architects, planners, governmental figures, and social scientist come away with when looking at the Pruitt-Igoe housing complex. This documentary correctly explains that the failure here is an individual set of circumstances and that this is a unique problem that does not speak for all public housing or all of modern architecture. Perhaps the most fascinating aspect of the film is the wide variety of accounts and experiences from the actual Pruitt-Igoe tenants. Surprisingly, not all of them were bad, especially people who were there earlier. This helps to better understand the people who lived there and the real reasons Pruitt-Igoe failed. It goes on to explain how issues of race lead to poor planning and decision-making that hurt the entire city. It shows how damaging the white flight many cities experienced during the Mid-Century suburbanization was, particularly in St Louis. The federal government funded an overbuilt the project expecting continued urban growth when the postindustrial wave hit the city causing St Louis to lose a substantial portion of its population and tax base. Pruitt-Igoe did not have enough tenants to pay rent, the shrinking city had no tax revenue to take care of it and the federal government was hands off after construction. As expected, the building fell into disrepair and became notoriously unsafe. There are many lessons from this painful urban disaster, and this film does a fantastic job brining light to the subject.
Russell Guest
The Pruitt-igoe Myth: An Urban History Quotes
There are no approved quotes yet for this movie.
Discussion Forum
Discuss The Pruitt-igoe Myth: An Urban History on our Movie forum!