The Pyramid
(2014)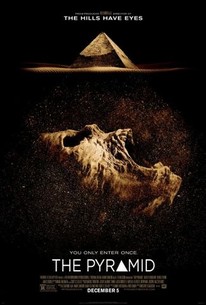 TOMATOMETER
AUDIENCE SCORE
Critic Consensus: Poorly lit and thinly writ, The Pyramid houses little more than clunky dialogue, amateurish acting, and dusty found-footage scares.
Movie Info
The ancient wonders of the world have long cursed explorers who've dared to uncover their secrets. But a team of U.S. archaeologists gets more than they bargained for when they discover a lost pyramid unlike any other in the Egyptian desert. As they unlock the horrific secrets buried within, they realize they aren't just trapped, they are being hunted. (C) Fox
News & Interviews for The Pyramid
Critic Reviews for The Pyramid
Audience Reviews for The Pyramid
½
*This review contains spoliers.* If you're looking for proper execution of found-footage concept, watch "The Blair Witch Project" instead. "The Pyramid" may elicit a few scares, out of the audience, but they are no more than cheap jump scares. There's not much that I can say it it's favor, other than the film's set design and the idea behind it's creature, Anubis. The set designs were excellent, unfortunately, they were brought down by poor lighting. They can thank the found-footage concept for that. I laud the writer's for bringing something new to the table regarding Anubis. When I think of pyramids, I think of mummies, but we've already seen that; it's nice to see something new. That being said, the CGI used to create Anubis was laughable and lacking terror. Leading man Denis O'Hare has proven himself a talented actor, but he doesn't showcase his skills in this film. None of the actors gave solid performances, however, that is not necessarily their fault. The acting in this film was crippled by a poor script and annoying characters. None of the characters manage to get the audience to care for them, and as a result, their deaths leave no impact. Clichés are hard to avoid in a horror film, but "The Pyramid" knocks off too many of them to enjoy it. One of the things that I hated about this film was the predictable ending. Part of me knew that all of the characters would die and the film would end with the monster jumping at the screen, but I just didn't want to believe it. I didn't appreciate the choppy and uneven way that "The Pyramid" was filmed. It switched back and forth between found-footage and third person, which struck me as lazy. My advice to Levasseur would be: if you're going to use the found-footage concept, you need to be consistent and stick with it throughout the film. This film would have benefitted from the filmmakers had discarded the found-footage concept and stuck to third person. "The Pyramid" could entertain the avid horror movie fan, but for most people, there are too many shortcomings to overlook.
Erin Severeid
Good Film never going to win any oscars but according to this it's bloody terrible total shit this review site is !!! . A good film with a few scares but defo not the worst .
Barry John Millsip
½
Okay, I love B-movies so I usually grade these higher than probably most other people. But this was horrible. It's another "found footage" film where you are made sick having to watch something through bad lighting and constant motion. It's plagued with stupid decisions, bad acting, and capped off with a very stupid (yet predictable) ending. Now the "monster" was a cool idea but boy did they screw the pooch on this... smh
rusty allen
The Pyramid Quotes
There are no approved quotes yet for this movie.
Discussion Forum
Discuss The Pyramid on our Movie forum!