The Rage
(1998)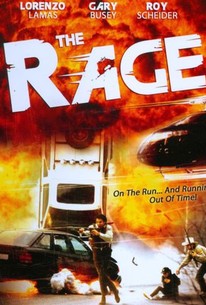 AUDIENCE SCORE
Critic Consensus: No consensus yet.
Movie Info
This silly, over-the-top action film has a great hammy performance by Gary Busey as the insane leader of a militia group intent on revenge against the government for doing psychotropic experiments on them after Vietnam. Busey also had his privates mutilated by a Viet-Cong prostitute, so he's a vicious razor-blade rapist, too. Lorenzo Lamas and Kristen Cloke are FBI "mindhunters" trying to stop him, but they lose their badges because of evil boss Roy Scheider, who still blames Lamas for his career troubles after a botched Ruby Ridge-type standoff. There are way too many plot threads dangling everywhere -- including the hesitant romance between Lamas and Cloke -- and the screenplay seems to reference every news item concerning the FBI in the last ten years to no good end. Still, those in search of mindless shootouts and hissable villains will find enough to enjoy over beer and pork rinds.
Rating:
R (for strong violence, including some grisly images of mutilated victims, and for strong language)
Genre:
, ,
Directed By:
Written By:
In Theaters:
On DVD:
Runtime:
Studio:
Miramax
Critic Reviews for The Rage
All Critics (3) | Fresh (0) | Rotten (3)

Audience Reviews for The Rage
The Rage is an action thriller that tries to take itself seriously, but instead becomes unintentionally goofy. This film is pure cheese that is less about having a plot and more about having explosions, ass-kickings, car chases, or any combination of these at least every five minutes. The Rage may not work as a serious action film, but it is a really fun and wildly entertaining popcorn film. I love it!
Keenan Sullivan
3/4 Stars Even though this movie was released on TV, I still enjoyed it a lot. An amusing performance by Gary Busey as a psychopath who's been wanted by the FBI for many years. Also starring Lorenzo Lamas, who teams up with Kristen Cloke to track down Busey. I enjoyed this movie so much and it tells us that Busey can be suspenseful and one of the first films that I've seen where the bad guys are actually smarter than the good guys.
Austin Morgan
½
Lorenzo Lamas is one of the worst actors I've ever seen. Smokers in today's economic climate will cringe to see him light up a cigarette, hold it wrong, and take two puffs before 'dramatically' throwing it away in his first four scenes. Roy Scheider and Gary Busey are the only two reasons to see this tour-de-shit.
Bryan Way
The Rage Quotes
There are no approved quotes yet for this movie.