The Real Blonde
(1998)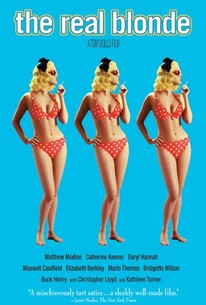 Movie Info
This romantic comedy from writer and director Tom DiCillo follows some New York City pals seeking authenticity with the real blonde, a symbol of amorous perfection. Joe (Matthew Modine) is an out-of-work actor struggling for even bit parts in Madonna music videos by groveling in front of a high-powered agent (Kathleen Turner), while his makeup artist girlfriend Mary (Catherine Keener) pays the bills. After six years of cohabitation, Joe's lack of success is wearing on their relationship. In the meantime, Joe's friend and fellow actor Bob (Maxwell Caulfield) has finally hit the jackpot with a role on a soap opera opposite the beautiful Kelly (Daryl Hannah), who just might be the real blonde of his dreams.
Critic Reviews for The Real Blonde
Audience Reviews for The Real Blonde
½
I honestly can't believe more people didn't like this. Maybe this is one of those cases of me just seeing the right movie at the right time, but I thought it was excellent.
Darcy Hogan
Leigh Ryan
Super Reviewer
As happens so often with ensemble cast films it seems they try to supplement the lack of plot with the number of big names they can fit into the credits. At times this film can be fun to watch, but it tries so hard to deliver a message regarding the world being phony and pretentious and obsessed with physical beauty that it becomes what it is trying to parody. It is also too obvious (to go as far as putting the word "facade" on a poster during a particularly 'poignant' scene). This movie misses the mark in so many ways. I adore so many of the actors in this movie (though this was really the worst performance I have ever seen Matthew Modine give...unless that was another point the film was trying to smash you over the head with) and some of the moments were very funny and really did hit home, but that only accounted for about 20% of the film. The rest of it was cliché and trite. It is watchable and there are some real gem scenes and messages, but it could have been done so much better. It was trying to be an art house film and so it arrived as a Hollywood flop. Rent it for a lark or to see some of your long lost movie pals, but don't put to much money down on it coming in first in your movie ranks.
The Real Blonde Quotes
There are no approved quotes yet for this movie.
Discussion Forum
Discuss The Real Blonde on our Movie forum!