The Reluctant Dragon
(1941)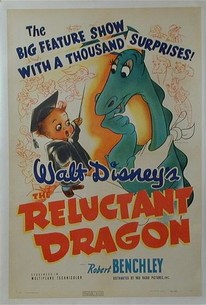 AUDIENCE SCORE
Critic Consensus: No consensus yet.
The Reluctant Dragon Photos
Movie Info
Comic legend Robert Benchley visits the Walt Disney Studios, hoping to talk Uncle Walt into creating a film based on Kenneth Grahame's The Reluctant Dragon. Along the way, he receives a behind-the-scenes tour of the animation process in this lively mixture of live-action and animation.
Rating:
NR
Genre:
, , , ,
Directed By:
Written By:
In Theaters:
On DVD:
Runtime:
Studio:
Walt Disney Productions
Critic Reviews for The Reluctant Dragon
All Critics (3) | Fresh (3) | Rotten (0) | DVD (2)
This isn't really so much a movie as it is just an excuse to show the movie-going audience some of what goes into making an animated film. And you know what? That's absolutely fine by me.
One of the most fascinating, irregular curios in all the cobwebby corners of Disney history.

Audience Reviews for The Reluctant Dragon
½
This is a curious picture in that it's the one feature made during the "classic" Disney animated period (before/during/just after WW2) that might not be that appealing to children. I say 'might' since I can't say for certain for all kids; I think if I saw this when I was younger, it would be a delight, but then it's a movie made for people who may want to know all of THIS that Disney did was possible. It's a hybrid of documentary, ridiculous narrative with a man named Robert Benchley, and actual cartoons. It's actually a treat to watch for a number of reasons, the first being that it shows the process of a Disney animated movie, a short or feature or whatever. You get to see here the voice actors - as soon as Clarence Nash came on doing Donald Duck my face lit up - and then on to how all of the synchronized sound is out together for the audio effects (hint: there are a LOT of them), and then down to things that most of us take for granted like how paints are made and how the camera works (the multi-plane one that was in heavy use at the time). There's also some character demonstrations and even a clip for the sync-sound portion where we see a portion of Dumbo with the Casey Jr train, only it's much longer and may be its own short which is very charming on its own. The whole narrative thrust of the movie is so slight that I'm sure the director and whoever was behind this movie barely paid attention to it, where Benchley has an idea to give to Disney for The Reluctant Dragon, gets on to the Disney lot and tries to find good ol' Walt and then gets distracted by every single department. Any time the movie stops to give heed to Benchley it's unfunny and stops dead in its tracks. It might just be because I don't know about Benchley (was he popular at the time, probably, I see he has a list of acting credits), but it doesn't really matter and it kills the real momentum of the piece. I suppose the thought was if it was a straight documentary instead of this man as a 'travel guide' it would be more dry. I'm not sure it would've been since everything to do with how a cartoon gets made - including the storyboard segment on Baby Weems which is pure delight - is fascinating just by how comedy builds and falls. Ironically by the time the movie gets to the full Reluctant Dragon cartoon (surprise/spoiler: Disney's one appearance is in the projection room about to screen the finished short, wop-wop), it's slightly a let-down. It's charming enough and has its moments, but it's too long at 20 minutes and as a short it starts to drag in the middle. I think if you're a kid coming to this today you should know the whole feature isn't a cartoon (oddly enough on the DVD release it just comes with the cartoon and a few other shorts so I guess that was forward thinking on Disney's part), but if you love the old process of animation, from drawing to paints to inking to character work (look at how they use that baby for inspiration!) it's a treat. PS: The irony of this whole movie is that it came out at just the time when Disney animators were striking (the animators in the movie are all actors, as I pretty much expected) and the strikers later went to theaters showing it with signs saying "The Reluctant Disney" due to his lack of equal wages.
Jack Gattanella
½
"The Reluctant Dragon" is a really cool behind the scenes look into the production of animated features at Walt Disney Studios. It lost money at the box office (likely a result of a Disney animators' strike and the disappointment that it was not an animated feature), but it is still an important film because it preserves the hustle and bustle of the studio during the Golden Age of Hollywood. The studio's various movie-making operations are tied together by a fictional story of comedian Robert Benchley trying to pitch a film to Walt. On his journey, he encounters everything from the artists and storyboard designers to the sound effects crew and the voice of Donald Duck. It's amazing to see Clarence Nash in action, and even more baffling to watch as Florence Gill produces the sounds of Clara Cluck. I particularly like the demonstration of the multiplane camera that creates the lifelike depth in Disney films and the sonovox that was used to create the voice of Casey Jr. in "Dumbo." This documentary-like feature keeps us engaged through a few animated shorts that are incorporated into the story as we learn about the production process. The shorts include "Baby Weems," Goofy's "How to Ride A Horse," and "The Reluctant Dragon." I love the story of this flute-playing, picnic-sharing, poetry-reciting dragon. He is the antithesis of dragon stereotypes and it creates great comedic moments. The primary purpose of the film is to create an understanding and appreciation for the animation process, but it's nice that we get to see the fruits of the studio's labors through this fun short at the end. "The Reluctant Dragon" isn't really a movie for kids but it's a thrilling behind-the-scenes experience for movie nerds.
Jonny Priano
½
So...I found out that this film exists; for some reason. It's not why the film actually exists that bugs me, because it works well as an educational tool for the general public, and shows us what happens at the Disney animation studios. No, what remains baffling is why they chose to make the film in this way. It could have been a quick documentary, but instead they decided to slap together a mélange of several different shorts, live-action footage, and a weird ending that supposedly remains the eponymous start to the film. It's just an odd kind of gem that Disney can still look to now that their projects are becoming less innocent over time. The film starts with radio personality Robert Benchley and his wife discussing a book their nephew wrote, which she wants to be made into an animated short. Benchley doesn't want to, but is forced into taking a meeting with Walt Disney himself. While being rallied around the studio by a Nazi youth looking assistant, Benchley slips away and explores the studio himself. We get to see different frames being put together to make a film, much like a flip book, sound effects for a short about a train, the coloring for another with Daffy Duck, (which includes voice actor Clarence Nash in all his splendor) and another short with Goofy. Benchley is always in wonder when he sees something new, and though most of the technology is dumbed down for the audience, and the environment is definitely more family friendly than in reality, it was nice to see these forties' staples onscreen. The ending contains the short, which was made while Benchley was supposedly wandering around the studio for forty minutes. The short itself is horrible. The dragon is an effeminate stereotype of a fop, who doesn't want to fight, yet pretends to with a knight so the knight can seem powerful, and all the villagers will think the dragon is tamed. Nothing entertaining about it, and the insensitivity exhibited by Disney yet again was not appreciated. Otherwise it's a cute little movie about the wonders of animation, which even kids nowadays can watch with a sense of wonder.
Spencer S.
Super Reviewer
The Reluctant Dragon Quotes
There are no approved quotes yet for this movie.
Discussion Forum
Discuss The Reluctant Dragon on our Movie forum!