The Secret Village
(2013)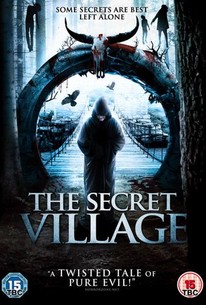 AUDIENCE SCORE
Critic Consensus: No consensus yet.
The Secret Village Videos
The Secret Village Photos
Movie Info
Two strangers research a mysterious outbreak of mass hysteria in a small village.
Rating:
NR
Genre:
,
Directed By:
Written By:
In Theaters:
On DVD:
Runtime:
Studio:
Critic Reviews for The Secret Village
There are no critic reviews yet for The Secret Village. Keep checking Rotten Tomatoes for updates!
Audience Reviews for The Secret Village
We're a small community that doesn't like change! A small village seems to be suffering from hysteria. A group of researchers are sent in and they hope to relieve the outbreak from society. Will the researchers become the latest victims, will the outbreak spread outside of the village, or will the researchers lock up whatever ghouls caused the mass hysteria? "I'm actually not here to order a meal." Swamy Kandan, director of Catch your Mind, delivers The Secret Village in his second major motion picture. The story line for this picture is fairly ridiculous and reminded me of a poor man's Darkness Falls (yes, a not as good Darkness Falls). The action and special effects were just okay and the acting was below average. The cast includes Jonathan Bennett, Ali Faulkner, Stelio Savante, Richard Riehle, Kef Lee, Tobi Gadison, and Miriam Weisbecker. "Your life is at risk. Don't trust anyone." We randomly grabbed this new picture off Netflix because we were in the mood for a horror picture. Unfortunately, this was a bit bland and straight forward. This definitely could have been more intense and better. Overall, I recommend skipping this picture, even if you're a horror movie fan. "I trusted you." Grade: F
Kevin Robbins
An interesting premise involving Salem, the witch trials, and Ergot (the fungus used to produce LSD and some prescription poisoning) provides The Secret Village with a potentially good storyline, but the film plays out in an extremely predictable way for which a few creepy moments cannot compensate.
Al Miller
One line summary: Murky horror/mystery set in a village in Massachusetts. ---------------- Rachel is a reporter of sorts, and Greg is a screenwriter. Both of them become interested in reports of mass hysteria in a small town in Massachusetts. By some circumstance, they end up being room mates in a large house in the area. The locals vary between not forthcoming and outright hostile. Rachel takes a job at a local eatery. Rachel keeps in touch with her boss by telephone. Greg floats around looking for information to help his creative process. Paul and Jim help Rachel with clues as they can. Greg's position turns out to be ambiguous; he steals some of Rachel's research materials and gives them to the villagers. Max, Rachel's boss, is glad to help her, but needs some sort of supporting facts before bringing in authorities to deal with the evil-doers. Will Rachel get to the bottom of this? Will Greg's position become clear? Will the secrets be revealed? -----Scores----- Cinematography: 8/10 Mostly clear and sharp; only occasionally falls into shaky camera mode. Sound: 6/10 The music is reasonably creepy, but is often over the top compared to the story and visuals. Acting: 1/10 I have nothing good to say here. Screenplay: 0/10 Where do I begin? Editing is a clear weakness; some clips are out of sequence. Exposition of motivations is not good; I saw only a pinch of that on two characters. Too many of the short conversations in the film seemed context free. The historical flashbacks seemed to have little or nothing to do with the main story line. The ending may have been meant to be as wonderful as the ending of The Sixth Sense, but it fell flat instead.
Ed Collins
The Secret Village Quotes
There are no approved quotes yet for this movie.