The Sensation of Sight
(2008)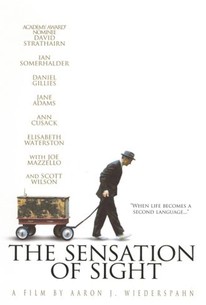 The Sensation of Sight Videos
The Sensation of Sight Photos
Movie Info
First-time American writer director Aaron Wiederspahn's moody drama The Sensation of Sight concerns Finn, a middle-aged English teacher caught up in the unrelenting throes of a mid-life crisis. Driven by the guilt associated with a tragic incident for which he considers himself responsible, he drops out of his daily life and routine, and takes to selling encyclopedias. The past continues to haunt him, however, filling his days with irrepressible anxiety, robbing his nights of sleep, and driving him inexorably toward a full self-awakening.
Rating:
R (for some language)
Genre:
,
Directed By:
Written By:
In Theaters:
On DVD:
Runtime:
Studio:
Critic Reviews for The Sensation of Sight
Audience Reviews for The Sensation of Sight
½
quirky quiet little movie about some small town folks, two characters were kinda like jay & silent bob.
Gregory Wood
½
The Sensation of Sight was a moody film that reminded this viewer of a really good lasagna. Several layers of ingredients come together in a complex melding that yields one delicious dish! David Strathairn plays Finn, the English teacher who seems to have retired from his life in order to make sense of what was a senseless tragedy because of the enormous guilt he carries around. Revolving around him is a marvelous cast of characters who are all struggling with finding a vital connection with other damaged souls. The way the story unfolds kept the viewer engaged, even when some of the characters proved to be quite annoying. Of special note, Elisabeth Waterston (daughter of Sam) is terrific as the young woman caught between her stubborn, grieving father and her ne'r-do-well brother and who tries to bridge the gap between them with little success. Jane Adams brings such raw emotional fragility to her character that one just aches for her. Even the two young kids who are integral to the story prove to be equal to their task. The location scenery, in and around Peterborough, NH lend an authenticity to the film, and provide a lovely backdrop to the story. But ultimately, it is the story, its utter simplicity and genuine exploration of complex human emotions that will keep the viewer engaged. First time writer-director, Aaron Wiederspahn, has crafted one beautiful film with real people showing real emotions and dealing with real issues of life and death and guilt.
Mark Abell
Super Reviewer
The opening shot thrilled me—for a rather personal reason. I recognized the scene as the one that's been fascinating my brother and me since we were kids. It's an old stone barn we used to drive past on the way to visit our grandfather. After admiring the barn, I realized that nothing was really happening. Nothing much, anyway. I waited while the movie's dawn turned to daylight around the barn and the morning mists burned off. I began to wish I hadn't bought it. But it gets better. We meet a man named Finn (David Strathairn) and watch as he tells his wife he's going away. Finn seems to be tortured and have a driving need to search for some sort of answer. His message is ambiguous and almost confusing--as it should be. In another scene, two guys come together to wash cars, and they're discussing the fact that one is working and the other is not. But there are three guys there, and the third one isn't working, either. And he's wearing a suit. I wondered why. And I wondered why, in the age of the internet, Finn decides to go-to-door selling encyclopedias. Eventually I learned that the third guy is a ghost. It's not that this is a 'paranormal' movie. It's just that Finn's burden of unresolved tragedy is as real to him as any physical presence could be. The people around him can't see the ghost—most of them, anyway. What they can see, can touch, are the encyclopedias. Finn is not glamorous. He's not fabulous. He's not even successful or collected or sexy, at least in the classic sense. He's real. In fact, he's so real, so imperfect, so nakedly human that I relate to him. I identify. I feel. "The Sensation of Sight" contains no pat answers. It depicts life, complete with anxieties and uncertainties. But it leaves us with a sense that we need not be its victims: we can be its participants.
Jae Blakney
The Sensation of Sight Quotes
There are no approved quotes yet for this movie.
Discussion Forum
Discuss The Sensation of Sight on our Movie forum!