The Shout
(1979)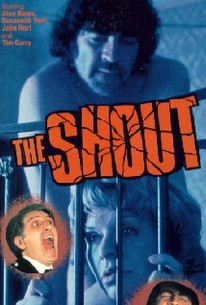 Movie Info
An asylum director begins telling a visitor to a cricket game the story of one of his "better" patients, Crossley (Alan Bates) who is able to compete. Some time previously, Crossley accosted Anthony (John Hurt), a composer, just after church and was for some reason invited to dinner. Once at the composer's home, he tells the story of his unusual upbringing among Australian Aborigines, and of the awful and strange gifts this has left him with. Among them is the ability to bring about another's death by using a certain kind of shout. The next morning, he begins to weave an erotic spell on the composer's wife Rachel (Susannah York), and then proves his killing ability on a sheep in a field. His influence increasingly disrupts their peaceful lives, until in a confrontation, the composer finds a way to best Crossley - but which results in his being placed in a mental institution. ~ Clarke Fountain, Rovi
Critic Reviews for The Shout
Audience Reviews for The Shout
½
John Hurt and Susannah York are a happy couple in some small English village. Burly, intimidating Alan Bates wanders into town, fresh from 18 years in the Australian outback. He sidles his way into the home of Hurt and York, and starts touting his exotic knowledge of Aboriginal magic. The film's title is somewhat misleading, because the plot's thrust is less about the deadly "shout" Bates has learned -- don't expect a typical horror movie about someone with fearsome, supernatural powers -- and more about him using a subtle hex to lure York away from Hurt. There's an extra layer of ambiguity, because the story has a framework of Bates telling the story while scoring a cricket game in an insane asylum. So, it's unclear whether it really occurred or not. And seemingly, Hurt and York are both involved with the asylum -- but it's not clear whether they are the same people from the town, or perhaps two wholly different people whom Bates just conveniently inserted into his tale because they happened to be in his sight. Or at least, this was not clear to me. Plenty of fodder for debate here. The film also includes some incidental intrigue for music gearheads: Hurt is a church organist who's also an avant-garde composer. So, we see him recording all sorts of everyday sounds (flies, marbles rolling on tin, puffing a cigarette, bowing fragments of a tin can, etc.) and using vintage effects boxes to warp them into eerie sounds. Furthermore, the soundtrack is by Genesis's Tony Banks and Michael Rutherford, and the music's close relation to Banks' concurrent "Wind & Wuthering"/"A Curious Feeling" material is unmistakable. This is a movie that practically demands to be seen twice. So much understated imagery that is deceptively important -- you'll see some little object early in the film, having no idea it will be pivotal later. Then it arises again, and you think "Wait, where did I see that before?" Watch closely! It's a slightly irritating film due to a somewhat leaden pace and Bates' pretentious intensity, but it's well worth seeing.
Eric Broome
Super Reviewer
½
very odd but i couldn't stop watching it so that must count for something. stellar cast. alan bates terrorizes john hurt with aboriginal magic...or does he?
Stella Dallas
Super Reviewer
Capturing a flavor of the decade prior (the 60's) this film is almost real to the point of surrealism, with a quirky story line brilliantly told through the eyes of a certifiable lunatic. Shout takes the unusual stance at starting from the ending, though we certainly don't know it at the time. From there we wander the grounds of a mental institution and witness a game of cricket between the "guests" and the staff. Scoring the game is newcomer Tim Curry (looking so very young!) and Alan Bates (who gives a truly haunting and commanding performace). Bates begins to tell a tale of a man (a young John Hurt) who is a guest at the asylum who has "lost his wife". From here the story unfolds, involving a married couple (Hurt and Susannah York) who take in a charismatic vagabond (Bates) who claims that he spent 18 years in the Australian outback with the aboriginies; learning, amongst other things, a shout that is deadly to all who hear it. He also apparantly learned some other magic from the Shaman, such as the ability to bind someone's heart by casting a spell over an item belonging to that person. What then ensues is like a drug infused dream where all appears normal, but then slightly out of step - just as the cricket game appears normal, but is fraying at the edges since it involves lunatics. The performances here are very good throughout, but the direction could have used a bit of tightening. There are some transcendant moments but others that seem trivial and unbelievable (odd considering that the entire premiss is pretty darned unbelievable). In the end you get an interesting period type piece (and by that I mean looking at the film in the time it was produced, not a Jayne Austin drawing room piece), that shows a director taking big chances and swinging for the fences, but too often missing the mark. I will say that Bates was riveting and the commanding presence that his charactor was supposed to portray. I can see a remake with Ian McShane.
paul sandberg
Super Reviewer
The Shout Quotes
There are no approved quotes yet for this movie.