The Shunning
(2011)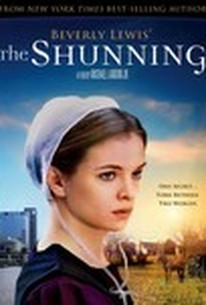 AUDIENCE SCORE
Critic Consensus: No consensus yet.
Movie Info
Katie Lapp (Danielle Panabaker) has always struggled with the rules that define her sheltered Amish community, but when a wealthy outsider (Sherry Stringfield, TV's "ER") begins asking questions about her family, Katie begins to wonder about her origins. What connection does this woman have to her life - and how will the unraveling secrets challenge Katie's faith? Beverly Lewis' The Shunning is a powerful, personal journey of discovery based on the famous novel by the New York Times bestselling author.
Critic Reviews for The Shunning
There are no critic reviews yet for The Shunning. Keep checking Rotten Tomatoes for updates!
Audience Reviews for The Shunning
½
A view of the Amish community and some of their customs. Danielle Panabaker is marvelous as Katie, the young Amish lady who is struggling with an arranged wedding quickly approaching and feelings of not belonging in her head. Touching and tear evoking (at least for my wife). Good family drama.
Don Schick
Nice Michael Landon Jr. movie...very Little House on the Prairie style. Not for everyone, I am quite sure. Very much chick flickish...
Cynthia S.
Super Reviewer
I didn't know this was a Lifetime movie (saw it on Netflix), but the canned dramatic background music certainly gave it away. Overall, this story tries to create drama out of nothing. The Shunning displays an overly sweetened, childish view of family, adoption, the Amish - building on a premise that was flimsy to begin with and trying to make a whole movie around it. First, Katie is not like other Amish. She likes "English" things like playing the guitar and thinking for herself. Because, as we all know, genetics is what determines degree of Amishness. Then a woman who is her biological mother (a cardboard cutout Lifetime character) goes looking for her daughter long-lost daughter because she finds out that she has a completely treatable and operable cancer. A note that she drops off at an Amish market miraculously ends up where it belongs, and Katie learns the truth. Realizing she is not really Amish, she does things that the audience wants to see, like venturing out in the world for the first time, trying on modern clothes, and generally being an alien among us. Nevermind that she presumably already did all this for Rumspringa. The film continues this oscillation between naive misconceptions (about identity, adoption, and the Amish) and forced dramatic, which we know are supposed to be deep and touching only by the soundtrack. Overall, don't waste your time. Even if you like cheesy Lifetime films for what they are, this one is not particularly interesting.
Follier Thurgood
The Shunning Quotes
There are no approved quotes yet for this movie.
Discussion Forum
Discuss The Shunning on our Movie forum!