The Singing Revolution
(2007)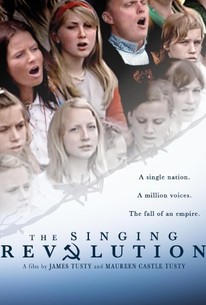 The Singing Revolution Videos
The Singing Revolution Photos
Movie Info
After enduring WWII-era brutalization by Hitler's Nazi Party and decades of repressive Soviet dictatorship, the tiny Eastern European nation of Estonia began to declare its independence from Communist rule in the late '80s. Over a five-year period, beginning in 1986, hundreds of thousands of Estonians began to systematically and repeatedly gather in public venues to collectively sing illegal patriotic songs, declaring their desire for national independence but never resorting to violence amid their protests. It was no coincidence that Estonia subsequently became one of the first nations to break away from the Soviet Union in the events leading up to the fall of the Iron Curtain. The documentary The Singing Revolution chronicles this extraordinary yet seldom-told chain of events. ~ Nathan Southern, Rovi
Rating:
G
Genre:
,
Directed By:
Written By:
In Theaters:
On DVD:
Runtime:
Studio:
Critic Reviews for The Singing Revolution
Audience Reviews for The Singing Revolution
½
Excellent film about a piece of history that's ignored too often. Shows how a people, united by culture, although not fully united in their goals, were able to destroy the Soviet power over them. The website has additional resources for teachers. This is the review on my blog: http://delesmuses.blogspot.com/2010/08/my-enemys-enemy-is-my-ally.html
Jennifer Vaughn
½
:fresh: :fresh: :fresh: :fresh: :fresh: :fresh: :fresh: This is a very important film that every American should see to better appreciate what we take for granted.
David Fournier
[font=Century Gothic]Well, I went to see [u]The Singing Revolution[/u] with my sweetie yesterday. The story it told is amazing, that the small Estonian nation was able to hold onto its national identity and throw off the Soviet yoke largely through their folk song tradition and their annual Song Festival. The importance of song to the Estonians seemed to me rather like the importance of song to the Welsh, who also hold such large festivals and which allowed them to maintain their national identity -- Welsh is still a living Celtic language. Admittedly, luck and time played a part in their success -- it turned out that their own government, still under Soviet control, had become more responsive, and the Soviet Union itself was falling apart. Had the singers tried such a push 10 years earlier, the Soviet tanks would turned Tallinn into another Prague. [/font] [font=Century Gothic]That said, I would have to say that the documentary itself, while well done, was not exceptional. The documentarians did a good job of contacting most of the relevant parties, and they made this film close enough to the event that there were many who could contribute. Linda Hunt's narration was fine, but this is a film about how singing fueled a peaceful revolution -- it seemed like it should have had more zing. It was probably too much to expect something like "Broadway Melody" from [u]Singin' in the Rain[/u], but a little more flash would have made the film watching experience better -- the actual historical event was one worth capturing, and the filmmakers did an adequate job -- they could have done more. [/font]
Bernard Norcott-Mahany
The Singing Revolution Quotes
There are no approved quotes yet for this movie.
Discussion Forum
Discuss The Singing Revolution on our Movie forum!