The Space Between Us
(2017)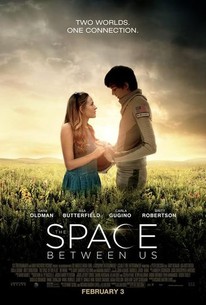 TOMATOMETER
AUDIENCE SCORE
Critic Consensus: The Space Between Us strands its star-crossed young lovers in a mind-numbingly vast expanse of shameless cheese that will send all but the most forgiving viewers eye-rolling for the exits.
The Space Between Us Videos
The Space Between Us Photos
Movie Info
In this interplanetary adventure, shortly after arriving to help colonize Mars, an astronaut dies while giving birth to the first human born on the red planet - never revealing who the father is. Thus begins the extraordinary life of Gardner Elliot - an inquisitive, highly intelligent boy who reaches the age of 16 having only met 14 people in his very unconventional upbringing. While searching for clues about his father, and the home planet he's never known, Gardner begins an online friendship with a street smart girl named Tulsa. When he finally gets a chance to go to Earth, Gardner is eager to experience all of the wonders he could only read about on Mars. But after his explorations begin, scientists discover that Gardner's organs can't withstand Earth's atmosphere. Gardner joins with Tulsa on a race against time to unravel the mysteries of how he came to be, and where he belongs in the universe.
News & Interviews for The Space Between Us
Critic Reviews for The Space Between Us
Audience Reviews for The Space Between Us
Dear lord, I can't stand Asa Butterfield. Not only is he a craptastic actor, but he has one of the most punchable faces in the history of cinema. Granted, he is reading from an Alan Loeb script, a writer whose lines would only work if read as ironic comedy. I don't think I've scoffed as hard and often this year as I did during the barrage of saccharine sentiments that emanate from both Butterfield and Gary Oldman. The movie is clearly designed to pack an emotional punch for idiot saps, but even the lowest common denominator will find the lovey dovey cheese cloying and trite. I didn't think Loeb could top Collateral Beauty in this respect, but he has been on a roll in his quest to the bottom of the dollar Blu-Ray bin ever since 21 back in 2008. The only reason why he's still getting his scripts produced are because he's garnered a collective 450 million dollars at the box office. Just keep drinking the kool aid, America. Anyway, in order to have a movie, a female astronaut somehow makes it to Mars before anyone realizes she is pregnant. She excretes Butterfield and dies, and the boy grows up on the red planet. The space program, fronted by an exquisitely hammy Oldman, lies to the media so no one knows the boy exists, but they don't seem to mind him talking to a world-weary, cynical, high school, foster kid girl via the internet. He makes his way to Earth and sneaks out of his quarantine to find his internet girlfriend so they can track down his father. She's an amazing singer songwriter who can fly a crop duster, he is a hopelessly romantic fish out of water with a debilitating condition, and glorious schmaltz and cheese ensue. Just like Collateral Beauty, everyone involved with this film should be embarrassed, and every copy of it should be destroyed.
K Nife Churchkey
Super Reviewer
½
Not cheese, but a kind of waxy, yellow build-up that could be referred to as cheese. Nonsensical, and not ashamed of it. Two of my favorite actors are in this and so I will say no more in the off chance that perhaps I might meet them one day.
Kevin M. Williams
Super Reviewer
The only thing that stands out in this film is NASA having more money and resources than Matt Damon had in The Martian and the primary plot device being emotional manipulation. The solution to Gardner's medical problems is absurd and even the big twist at the end you feel absolutely nothing for because you don't believe it for a second. The Space Between Us is a romantic science fiction film that is nearly as insulting as a sci-fi as it is insulting as a romance.
Jacob Smith
Super Reviewer
The Space Between Us Quotes
There are no approved quotes yet for this movie.
Discussion Forum
Discuss The Space Between Us on our Movie forum!