The Spook Who Sat by the Door
(1973)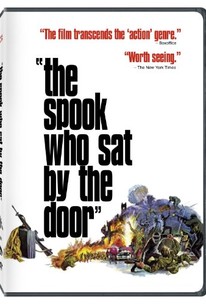 The Spook Who Sat by the Door Photos
Movie Info
Based on a novel by Sam Greenlee, The Spook Who Sat by the Door chronicles the exploits of a CIA agent, the only black man in the agency. Tired of being treated as a human showcase for affirmative action, he quits and heads for the inner city where he begins forming an army of "freedom fighters" determined to overthrow the government and vanquish the white oppressors. To do so, they steal a bunch of high-tech weapons from the National Guard and bloody mayhem ensues.
Critic Reviews for The Spook Who Sat by the Door
Audience Reviews for The Spook Who Sat by the Door
½
One of the most radical blaxsplotation films I've ever seen.
Ken Stachnik
Super Reviewer
It is such a mixture of passion, humor, hindsight, prophecy, prejudice, reaction, hate, prejudice, bigotry, and uncompromised social exploitation that the fact that it's not a very well-made movie, and is seldom convincing as melodrama, is almost beside the point. Almost.
Lee Mayo
I took the message of self determination and exploiting the exploitative system to take skills and knowledge back to ones own community. Inspiring. Using counter terrorism tactics to teach the street gangs guerrilla warfare is just an example of this but it's handled well in the movie. I like that they don't throw in a tacky ending but leave it out there. The scenes with Dan training in the CIA are confusing at first because you don't quite know where the movie is going and it did seem a little too easy for him to convince a street gang to follow him into urban revolution but that aside the sub plots like the friend who turns him in and the middle class black woman of his being scared by the revolutionary blacks make for a brilliant film.
Cassandra Maples
Super Reviewer
The Spook Who Sat by the Door Quotes
There are no approved quotes yet for this movie.
Discussion Forum
Discuss The Spook Who Sat by the Door on our Movie forum!