The Steamroller and the Violin (Katok i Skripka) (The Skating Rink and the Violin)
(1962)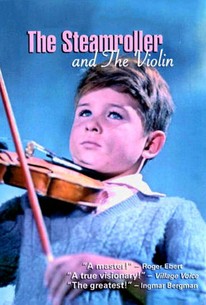 The Steamroller and the Violin (Katok i Skripka) (The Skating Rink and the Violin) Photos
Movie Info
Katok i Skripka (The Steamroller and the Violin) was the last short Andrei Tarkovsky directed before moving on to his first feature. The film tells a very simply story of friendship between an artistic, sensitive seven-year-old violinist named Sasha and a physical, blue-collar steamroller operator. They befriend each other after Sasha is threatened by some ruffians, spend the day together, and alter each other's perceptions of life. ~ Perry Seibert, Rovi
Critic Reviews for The Steamroller and the Violin (Katok i Skripka) (The Skating Rink and the Violin)
Audience Reviews for The Steamroller and the Violin (Katok i Skripka) (The Skating Rink and the Violin)
½
Impressive short film by Andrei Tarkovsky, this is for me anyways an experiment in the way that he would tackle his later work. The film for what it is quite good, but it's not as great as Tarkovsky's later, more elaborate work. This is a good short film nonetheless, but compared to the director's more impressive theatrical features, this one just leaves a bit to be desired. I did enjoy the film for what it was, and it should be seen by Andrei Tarkovsky's completists for what it represents in his career. However like I said, he would later make far superior films later on, but here we do get a glimpse into how he would craft a film using simple ideas and would be able to grab your attention by its visual impact. This wasn't Tarkovsky's first short film, but it was a short that was quite different than what we've seen from beforehand. For what it is, it's a good short film, and it does show the director's talents in telling a good story with basic elements. Worth seeing if you're a Tarkovsky fan.
Andrei Tarkovsky's diploma film shows his style and passion for artful film-making at the earliest in his career. Everyone has to start somewhere. 8.5
Johan Sigg
½
This semi-touching picture was pretty much meh. It's only 40 minutes long, but you can tell that this is Tarkovsky's first movie. It doesn't possess much of a story so it's kind of hard to get into, but at least it didn't take up too much of my time. [center][img]http://img101.imageshack.us/img101/7605/steamroller4aa.jpg[/img] Also, ever since the 'To Catch a Predator' age came about, I doubt that these kinds of relationships would be able to occur without scorn. Until next time....... [/center]
Seth Row
The Steamroller and the Violin (Katok i Skripka) (The Skating Rink and the Violin) Quotes
There are no approved quotes yet for this movie.
Discussion Forum
Discuss The Steamroller and the Violin (Katok i Skripka) (The Skating Rink and the Violin) on our Movie forum!