The Stone Roses: Made of Stone
(2013)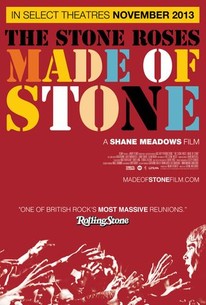 The Stone Roses: Made of Stone Videos
The Stone Roses: Made of Stone Photos
Movie Info
In 2012, a resurrection no one thought possible took place when legendary band, The Stone Roses reformed after 16 years. With unprecedented access to previously unseen archive footage, MADE OF STONE is a revealing journey through the life of one of the most revered and influential bands in British music history. Acclaimed film-maker Shane Meadows brings his unique directorial style, humour and emotional depth to the film, capturing the band at work and in their everyday lives as they rehearsed for their much-anticipated reunion, which culminated in three triumphant homecoming gigs at Manchester's Heaton Park in front of 220,000 adoring fans. (c) Official SIte
Critic Reviews for The Stone Roses: Made of Stone
Audience Reviews for The Stone Roses: Made of Stone
an artsy well directed fan loving tribute to the legendary Madchester Brit band of 90s fame who were also legendary for record company woes, break ups and disappearing. Equally legendary Brit filmmakers Shane (This is England) Meadows made this well crafted loving lively doc a few years ago when the Roses surprises fans and journalists with a reunion If you dont know the Stone Roses nor Shane Meadows you should stop whining about how all things suck and fix that as Meadows had made a bunch of TV mostly and movie stuff, esp around his terrific This is England series, and the Roses are one of the best Brit bands, esp since the English Invasion of the 60s and in spite of the catchiness of a few Oasis tunes and a few one hit Blur type wonders, musically the Roses always struck me as way better, and nicer and more poetic, than that other stuff...Waterfall and Love Spreads are as melodic and beautiful pop tunes now as they were in the 90s Anyway, as with the likes of Scorsese when he teams up with the likes of the Band and the Stones and George Harrison and Demme wih Talking Heads, this linking artistically of a great filmmaker with terrific musicians leads to good things. Not a perfect movie, and a bit meandering, it is nonetheless engaging and filled with an array of stock footage from the original era, the reunion and more Also, i could complain about having a hard time with some of the accents, esp those Manchester boys, but that would be my fault... Bravo
Stephen Rubin
Shane Meadows is given access to legendary band The Stone Roses as they prepare to reform for a series of gigs leading up to a triumphant homecoming series of concerts at Manchester's Heaton Park. Part rockumentary, part concert film, Meadows is clearly the kid in the sweet shop here as he gets to spend time with his favourite band during their unthought of and seemingly impossible reunion. The behind the scenes bits are fun and Meadows has access to some great historical footage, but it's when the band are jamming together that this film shines. Playing Waterfall in that tiny studio put a massive grin on my face. A film for fans; partly about fans; made by a fan. Nothing truly insightful, but a fun time.
Graham Beilby
The Stone Roses: Made of Stone Quotes
There are no approved quotes yet for this movie.
Discussion Forum
Discuss The Stone Roses: Made of Stone on our Movie forum!