The Story Of Luke
(2013)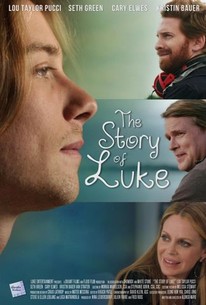 Movie Info
A comedy about Luke, a young man with autism who embarks on a quest for a job and a girlfriend. Starring Lou Taylor Pucci, Seth Green, Cary Elwes and Kristin Bauer. Written and Directed by Alonso Mayo, based on his experiences at Centro Ann Sullivan del Perú, as seen in his research documentary "Just Like Anyone". Winner of Best Film at Irvine International Film Festival & San Diego Film Festival, and Audience Awards at Fort Lauderdale Film Festival & Bahamas International Film Festival.(c) Official Site
Rating:
NR
Genre:
,
Directed By:
Written By:
In Theaters:
On DVD:
Runtime:
Studio:
Critic Reviews for The Story Of Luke
Audience Reviews for The Story Of Luke
I loved this movie so much. Lou Taylor Pucci puts on a performance of a lifetime. Along with strong performances by Cary Elwes and Seth Green. This highly inspirational and tear jerker will throw you in a whirlwind of smiles and tears. Rejoice, Luke sees the world so few can.
Ryan Lick
½
I've always found Lou Taylor Pucci, other than always reminding me of a young Johnny Depp, has been an incredibly underrated actor throughout the years. I don't think he's ever gonna win any prestigious acting awards, though it wouldn't surprise me if he did, and he's unlikely to be the next big box office draw after Will Smith, but I find that he's immensely talented and he has a quiet presence about him, where he's obviously not as imposing, or as big, as The Rock, but he's got something that draws you to him in films. With that out of the way, this might have too much of a feel-good indie quirk vibe, I found the film to be really good with very good performances, a smart script that doesn't insult those with autism, but instead celebrates it in an encouraging and uplifting way, sort of like 50/50 did with cancer. When I celebrate it, I don't mean it in a 'hooray for autism' kind of way. It just celebrates the positive influences it can have in peoples' lives and that its not really something to be afraid, or ashamed, of. The film does poke fun at Luke's interpretation of what people tell him and how literally he absolutely takes everything that is told to him. The story is also kind of a effective because it touches on universal themes, just seen through the eyes of someone with autism. The search for independence, love, and acceptance are all touched on. Of course, autism plays a huge part on Luke's search for all of these things, but it's not done in a heavy-handed way. That's what I was fearing most before I started watching this film. Thankfully, those fears were unfounded. The film is quite funny, but it is never laugh out loud funny, which wasn't its intention. The film blends the drama with the comedy very effectively, and one doesn't undercut the under. The acting was very good, with Lou Taylor Pucci clearly stealing the show with his mannerisms, his tone of voice, and his body language all being spot on. This review has petered out, all of a sudden. The directing/cinematography itself isn't out of this world. You can very clearly see that this film didn't have the biggest budget. Not that it needed it with the script and the immensely talented cast to help make up for that. Damn good movie, certainly an uplifting and feel-good film for those with autism, and those who help take care of them. Flawed film, but ultimately it's a very rewarding and enjoyable experience.
Jesse Ortega
Super Reviewer
"The Story of Luke" is not a saga of epic proportions, but with a huge assist from Pucci's layered performance, takes a premise that could easily be movie-of-the-week sappy and finds a humanizing lightness.
Lee Mayo
The Story Of Luke Quotes
There are no approved quotes yet for this movie.
Discussion Forum
Discuss The Story Of Luke on our Movie forum!