The Strange Case Of Angelica
(2010)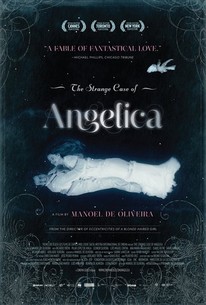 The Strange Case Of Angelica Videos
The Strange Case Of Angelica Photos
Movie Info
The new film from master filmmaker Manoel de Oliveira, The Strange Case of Angelica is a magical tale about a young photographer who falls madly in love with a woman he can never have, except in his dreams. Late one night, Isaac is summoned by a wealthy family to take the last photograph of a young bride, Angelica, who mysteriously passed away. Arriving at their estate, Isaac is struck by Angelica's beauty, but when he looks through his lens, something strange happens - the young woman appears to come to life. From that moment, Isaac will be haunted by Angelica day and night. -- (C) Cinema Guild
Rating:
NR
Genre:
, ,
Directed By:
Written By:
In Theaters:
On DVD:
Box Office:
$47,743.00
Runtime:
Studio:
Critic Reviews for The Strange Case Of Angelica
Audience Reviews for The Strange Case Of Angelica
Oliveira is at his most self-indulgent, throwing gorgeous visual compositions in a strange film that never decides if it is supposed to be a technically refined drama or a surrealistic comedy, while the actors overact, the dialogue is terrible and the nonsensical plot leads nowhere.
Carlos Magalhães
Super Reviewer
A strange film that's actually not really all that strange in an era where strange films are quite common. de OIiveira's visual craft is superb. In fact, the film warrants a profound study just solely on the visuals alone. But it's a shame that this is a film and not a painting as the visuals do not make up for the lack of coherency in the writing. The dialogue is really horrendous at times with on-the-nose exposition seeking to explain and elaborate on what we already know and the overarching plot is rather silly. The premise of seeing ghosts through a camera is an interesting one, but de Oliviera doesn't develop this at all and the ghost sightings become more annoying than intriguing. Furthermore, the romance between Issac and Angelica is immensely contrived. The characters have literally no reason to be in love with each other and Issac just spends most of the film wandering around without much purpose. The entire concept of "love at first sight" is a bit shaky at best and de Oliviera seems to grasp on to the concept as if it's a God-sent universal truth. Thus, Issac and Angelica's romance couldn't be more uninteresting in a film that's apparently about love. Minimalist films without a strong cause and effect can work well to communicate a theme or message: such as Blow Up. But The Strange Case of Angelica is minimalist to a fault where too little happens and what does occur happens with too little logic and reasoning behind it. Ultimately, de Oliviera seems to have an idea for a film and all he did was shoot that idea without further thought. A film can lack a traditional story structure, but it cannot lack a purpose. The Strange Case of Angelica seems to lack both.
J.J. Wang
Just a bunch of weird images that most don't make sense. The dialogues were weak and the plot was dumb. The most lively acting was delivered by a corpse.
Bruno Lot
The Strange Case Of Angelica Quotes
There are no approved quotes yet for this movie.
Discussion Forum
Discuss The Strange Case Of Angelica on our Movie forum!