The Swimming Pool (La Piscine)
(1969)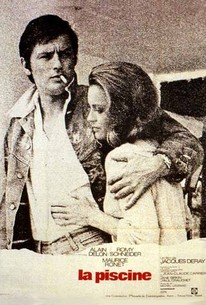 Movie Info
Jean-Paul (Alain Delon) is an out-of-work writer having an affair with Marianne (Romy Schneider), a successful journalist. As they frolic in a swimming pool in St. Tropez, she receives as call from the record executive Harry (Maurice Ronet). He arrives with his nubile young daughter (Jane Birkin). Harry and Marianne were once lovers and he makes a pass at her. Meanwhile, Jean-Paul makes a pass at Harry's daughter. After some drinking, Harry and Jean-Paul fight, resulting in Harry being pushed into the pool. Jean-Paul refuses to help the struggling man as he drowns, and the young couple tries to get their stories straight in order to avoid being charged with murder in this sometimes masochistic feature from France.
Critic Reviews for The Swimming Pool (La Piscine)
Audience Reviews for The Swimming Pool (La Piscine)
½
What this sensuous, provocative and elegant French film does so remarkably well is sustain a palpable tension between its characters constantly suspended in the air, be it of sexual nature or unspoken thoughts that are conveyed mostly through meaningful looks and glances.
Carlos Magalhães
Super Reviewer
Boy, not even my buddy Alain Delon could save this one. Slow, meandering, stagnant and emotionless. If they cut out a half hour and actually took a moment to develop these characters past their superficial fronts this could have been great. Instead, they throw out board statements 3/4ths in the film (re: suicide attempt) and expect you to just pick up on it and go with it. Everybody felt insincere and bland, huge disappointment.
Jenna Ipcar
Beautiful people in a beautiful setting tell a tale with lots of dark undertones in this French film from 1969. Shades of Lolita with a layer of rampant jealousy as a couple's idyll outside of St Tropez is interrupted by the arrival of a friend and his young daughter. Resentment builds as Harry (Maurice Ronet) and Jean-Paul (Alain Delon) vie for the attention of the Jean-Paul's girlfriend, Marianne (Romy Schneider) and the girl, Penelope (Jane Birkin), provides a distraction. The pot simmers quite nicely and makes a wonderful stew. I found this quite entertaining and not at all dated. It holds up well.
Mark Abell
Super Reviewer
The Swimming Pool (La Piscine) Quotes
There are no approved quotes yet for this movie.
Discussion Forum
Discuss The Swimming Pool (La Piscine) on our Movie forum!