The Tarnished Angels
(1958)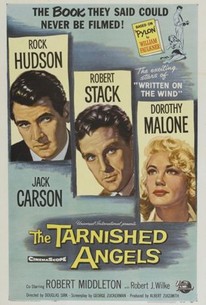 The Tarnished Angels Videos
The Tarnished Angels Photos
Movie Info
In this film, Robert Stack is a disillusioned WWI ace eking out a living as a barnstorming pilot/parachutist during the early 1930s. New Orleans newspaperman Rock Hudson runs across Stack at a two-bit carnival. He becomes fascinated with Stack's fall from grace and latches onto him.
Critic Reviews for The Tarnished Angels
Audience Reviews for The Tarnished Angels
Photographically, this is some of Sirk's best work, even in black and white... especially in the stunning aviation sequences, but also the moody lighting. And some of the dialogue sparkles (which is likely more Faulkner's doing than Sirk's) and Hudson delivers a speech worthy of Chayefsky. But otherwise it's not that hot. Sirk does melodrama better than anyone, and the movie is certainly watchable, but there just isn't much to it. Still worth seeing, though.
Martin Teller
So here we are at March 13th, the day I turn 50. Overall I should be really depressed right now considering the lack of stuff I've accomplished in my life but since I think I finally have things figured out and know the direction I shuld go in, I don't feel too bad. I just have to hold on until I go to my little retreat at the end of April. I notice there are a lot of gorgeous, sexy women who have their birthdays around now like Sharon Stone, Nina Hartley and Dana Delaney who turns 49 today. I'm at least in very good company. One thing is that there's still an awful lot of important films I haven't seen. At my age I should be farther along and I'll be working on that from this point on. The most confounding film I've seen lately has been "Broken Lizard's Club Dread". I had been wanting to check these guys out but now I'm confused as to what I saw. This wasn't a spoof of slasher movies so much as a slasher movie with jokes. It didn't help that the entire cast played the script so seriously the humor mainly fell flat even when it was obvious. Now I probably have to see "Super Troopers" to try to figure out these guys. I don't watch much porn these days but I saw a good one last night, "Dark Chambers" starring Marilyn Chambers. It's a 2000 film so Marilyn is a bit bigger than she was in her "Green Door" days but she's still unbelievably sexy. There was a good variety of female looks in the movie as well, Asia Carrera, cute and hot as ever, another old-timer Erica Boyer also packing a few more pounds but still enthusiastic and a woman I saw for the first time, Lauren Montgomery. a strikingly beautiful blonde with puffy natural breasts. The movie was directed by Veronica Hart who's really learned how to shoot sex scenes for maximum effect, espcially the orgy scene at the end of the picture. Later today, I'll celebrate after a fashion by eating out, then come back home and watch "Valerie And Her Week Of Wonders", which hopefully will be as mind-blowing as I've heard.
Jerome Wilson
(VHS) (First Viewing, 3rd Sirk film) Review for this and [b]The Bride Wore Black[/b] tomorrow. Because then I'll be done with finals and home from school. Needless to say, I think this is my favorite Sirk film so far.
Jesse Last
The Tarnished Angels Quotes
There are no approved quotes yet for this movie.
Discussion Forum
Discuss The Tarnished Angels on our Movie forum!