The Task
(2011)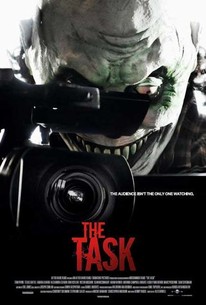 AUDIENCE SCORE
Critic Consensus: No consensus yet.
Movie Info
Something diabolical is taking place on the set of "The Task" a new reality show in which players complete terrifying missions within the confines of an abandoned prison hoping to win a hefty cash prize. As six young students explore their new environment, malicious spirits make their presence known in the most gruesome ways imaginable, Unable to escape the labyrinthine prison, the contestants become unwitting pawns caught at the centre of a blood-soaked night of terror. -- (C) After Dark Films
Critic Reviews for The Task
Audience Reviews for The Task
From the companies that brough you Horrorfest, comes the Task, a unique story with a twist. I really liked how ambitious the Task was and just what lengths it went to in order to try and trick the audience. It's unusal to find good writing or much of anything that isn't predictable in a film like this, and I really didn't expect it to be as entertaining as it was. This unique story begins with seven people being kidnapped and brought to a remote location to compete in a reality TV show, that combines Survivor, Fear Factor, and Ghost Hunters. The game requires the contests to spend one night locked in an abandon prison, with a seedy reputation. The contests must complete the tasks that are put in front of them to win a large cash award. The contests were as different as can be leading to a fantastic dynamic between them, it's a shame they didn't build on that dynamic and show more interaction between characters, that only would have added to the story. The cast, as usual, is mostly newcomers, but talented newcomers, who do an excellent job in making this story believable. A movie like the Task really comes down to the cast, because if they're not believable the movie ends up being only good for a few laughs. The cast was good, the plot was great, but what really put the film over the top was it's terrific ending, which was very reminiscent of another Lionsgate classic, Saw. It's an ending you shouldn't see coming, but one that really brings the whole thing together.
Todd Smith
Super Reviewer
½
A rather strange entry in the After Dark series. It was pretty good, though. It was pretty creepy an scary at some parts. I also liked the story, the story was good. Maybe not the best of the series, but still a pretty good horror flick.
Jacob Palacio
Super Reviewer
As a horror film this suffers from one major fault; it's just not scary! It's a shame as the premise, although far from original, suggests that this could be a lot of fun but the obvious budget issues mean that the whole thing is rather dull. If they'd only gone to town on their special effects the whole film would have benefitted but aside from one interesting gutting (nice one Mr Payne!) there is hardly any gore at all and the impression is of film-makers being too cautious rather than going for it. They should have embraced the Eli Roth school of horror and had a ball with the whole thing. A couple of dodgy performances but most do well with what they have. The less said about the ending the better but I think we all know that it's a bit of a cop out. No classic.
David Sayers
Super Reviewer
The Task Quotes
There are no approved quotes yet for this movie.