The Tell Tale Heart
(1989)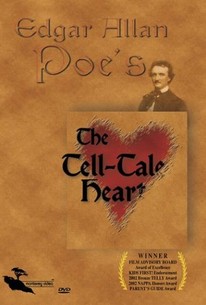 AUDIENCE SCORE
Critic Consensus: No consensus yet.
Movie Info
Based on Edgar Allen Poe's famous short story. This film delves into the dark recesses of the human pschye.
Critic Reviews for The Tell Tale Heart
There are no critic reviews yet for The Tell Tale Heart. Keep checking Rotten Tomatoes for updates!
Audience Reviews for The Tell Tale Heart
4.0/10 Pretty unconvincing, even for an indie flick based on an Edgar Alan Poe short story. Poe's story was magnificent; delving into the very heart of madness itself. This film doesn't do any of that. Instead it feels sort of...pretentious. Not as bad as a Hollywood adaptation COULD have been, but it certainly lacks the potential of a Hollywood adaptation as well. It's (somewhat) decent for a mere 20 minutes of your life, but that could be spent elsewhere. For instance, you could spend that very twenty minutes watching "Harvie Krumpet", which is a much more "well made" little indie short. Despite its flaws, I see where the filmmakers were going with their adaptation to "The Tell Tale Heart". Unfortunately, they get nowhere with what they've made. I liked the approach that this adaptation tried to take although my attempt at admiration simply didn't cut it when it came to criticism. I mean, everything is so uneven here that nothing, and I mean nothing, can truly come back to patch up the film's flawed areas. Not even the depiction of the madness is convincing. It's a shame, because this could have been so good. And given that it's an indie film, it should hit harder than any Hollywood "The Tell Tale Heart" should. But I imagine that if those dare-devil Hollywood bastards ever decide to adapt such a story, then it will take much longer than it took to make this little film. When I say "Edgar Allen Poe Adaptation", I want just that. I didn't ask for a sense of detachment and mostly boring scenarios as well as many failed attempts at depicting psychological madness. And there's even the morality of the book in there as well. And Matt Holland doesn't have the madness in him to carry that morality out until the end, and in any particularly interesting fashion. Please, directors Steve Barry and Rohanna Mehta. You're seriously killing me and whoever loves the stories of Edgar Allen Poe. Assuming that you already know the story of "The Tell Tale Heart", I'm not going to describe the story. At all. If you're interested whatsoever in seeing this adaptation then you must have read Poe's short story already. The acting in this film ranges from god-awful to flat-out pretentious. The best acting undoubtfully comes out of those who don't even utter a word, which is probably for the best. Matt Holland is the leading man and can't carry such a burden above his head for so much than a second. The minute you hear this guy talk, you know it's pretentious; you're aware of its awfulness. Holland's dialogue is just...so bad. I mean, it's unexceptionable, and for once I laughed at such a film for being as pretentious as it was. Note to all directors: If you're going to adapt "The Tell Tale Heart", get good actors. The film has mediocre production design, considering its small budget. None of it is noticeable, however. The film was so low budget that they even had to cut out the violence. Sure, it implies that the protagonist/antagonist is chopping up the old man, but it's also a scene that is lacking in both believability and blood. Maybe that's a good thing, and I like the non-violent approach that this film takes, but it's too unfulfillable for its own good. What could have been a worthwhile 20 minutes is turned into a mostly boring, pretentious mess of below-the-average indie filmmaking.
Ryan Marshall
Super Reviewer
The Tell Tale Heart Quotes
There are no approved quotes yet for this movie.