The Tender Trap
(1955)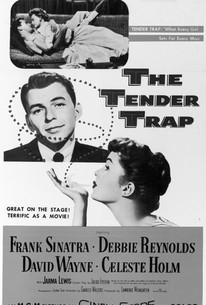 Movie Info
Max Shulman and Robert Paul Smith's Broadway hit The Tender Trap is transformed into a beguiling Frank Sinatra film vehicle. Sinatra plays a Manhattan showbiz agent, Charlie Y. Reader, who enjoys the attentions of several willing young ladies. At an audition, Charlie meets aspiring actress Julie Gillis (Debbie Reynolds), who is so determined to land a husband that she's already set the date. She goes out with Charlie for a short while, then announces that she won't marry him until he gives up all his other girls. Charlie, who hasn't said word one about marriage and who'd been preparing to give Julie the brush-off, is startled by her ultimatum -- so much so that he genuinely falls in love with her, which (we can safely assume) was her intention all along. A complication involving Charlie's former amour Sylvia Crewes (Celeste Holm) and his best friend Joe McCall (David Wayne) paves the way for the film's slightly offbeat denouement. In addition to scoring at the box office, The Tender Trap yielded a hit song (written by Sammy Cahn and Jimmy Van Heusen), which would remain a part of Frank Sinatra's repertoire for the rest of his life. ~ Hal Erickson, Rovi
Rating:
NR
Genre:
, , ,
Directed By:
Written By:
In Theaters:
On DVD:
Runtime:
Studio:
WARNER BROTHERS PICTURES
Critic Reviews for The Tender Trap
Audience Reviews for The Tender Trap
½
Great song, morally bankrupt characters. David Wayne's character was fine until the end when he made a pass at Celeste Holm to leave his wife after chastising Frank the whole film. Weird story.
K S
So incredibly terrible, and Debbie Reynolds knew it. Julie, her naïve husband-chaser of a character, was and perhaps is a reality and a trope, but does she have to be so devoid of personality otherwise? What is love, and why does Charlie even fall in love with her? There's no charm to their dated courtship at all, and it's a waste of Debbie's singing and dancing talents. The bouquet passing bit at the end is cute, and the movie makes interesting enough insights into Martian and Venusian conflicts with Charlie's reforming rover, Joe's disillusioned family man, and Sylvia's career dame with a ticking marriage clock (played by the serene Celeste Holm), but the injection of a petty, needy, indecisive stereotype just sets gender politics back fifty years...not to mention screenwriting.
Alice Shen
Super Reviewer
If nothing else, the film should be seen for its iconic first two minutes, where, from out of a blue-sky backdrop, swaggers Sinatra - draped in sharkskin, tipped fedora and Cinemascope - hands in pockets, staking his claim on Cahn/VanHeusen's title tune. Here, Frank's signature style is on full on show and at its best. 'The tender trap' is, of course, love and marriage. And Frank's been meticulously sidestepping it in favor of his harem-like, 24/7-swingin', ring-a-ding-dingin' Manhattan bachelor pad - until stubborn, altar-focused Debbie Reynolds turns up toting small-town naivete and expectations that Frank cough up a ring and his little black book. Sinatra and married wingman (Wayne) role-swap: Frank's got Debbie under his skin, Wayne's a-wooin' Frank's pick-of-the-litter (Holm). Holm's of sharp wit/word; she knows the rules of the mid-Century marriage game better than them all. Throw in a few trivial subplots and soon enough, there's an engagement, a marriage or a break-up every sixty seconds. When the game of musical chairs ends, love has conquered all. From a long-running Broadway play. Not quite the Doris Day sex-comedy, but clearly foreshadows & inspires them: Debbie's the lone 'good girl' in the dugout, Wayne's the foil that is Frank's conscience, positions later held by Tony Randall and Gig Young. Snappy/witty dialogue abounds - "How much money you makin?" "Almost as much as I'm spending." - "I've seen you somewhere before." "It's just this face of mine, it's what every girl is wearing this season." Plus there's dramatic sprinkles on the cone in the form of (well-dated) volleys on topics such as marriage versus career, girlie versus wife, playboy versus husband. In this film, such sprinkles are often the better part of the cone. RECOMMENDATION: Captures well the time. Well recommended for those who appreciate the period/genre.
TonyPolito Polito
The Tender Trap Quotes
There are no approved quotes yet for this movie.