The Terror Experiment (Fight or Flight)
(2010)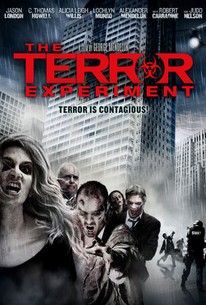 AUDIENCE SCORE
Critic Consensus: No consensus yet.
The Terror Experiment (Fight or Flight) Videos
The Terror Experiment (Fight or Flight) Photos
Movie Info
A terrorist sets off an explosion that rocks the Federal Building and unleashes a toxic gas throughout the ventilation system. His purpose: to expose the Government's secret biological warfare weapon, a deadly virus that instantly attacks a person's adrenal system, causing them to become inhumanly aggressive, with an uncontrollable urge to kill each other.
Rating:
NR
Genre:
, ,
Directed By:
Written By:
In Theaters:
On DVD:
Runtime:
Studio:
Anchor Bay Entertainment
Critic Reviews for The Terror Experiment (Fight or Flight)
All Critics (1) | Fresh (0) | Rotten (1) | DVD (2)
C. Thomas Howell, Judd Nelson and Robert Carradine star in this sub-par zombie attack with special effects that are jaw-droppingly bad. Seriously, a high school senior with a good make-up kit could do a better job.

Audience Reviews for The Terror Experiment (Fight or Flight)
i'm not one to shun a good b-flick but when the basis of the plot revolves around a premise w/ a flaw so glaringly obvious it's hard to get into movie even after accepting the predictable angles and sophmoric acting. **spoiler alert** if the virus was designed to defeat an army by casing them to turn on each other, why were there so many infected still running around? once you get that thought in your head the whole movie goes from a sloppy b-flick to just plain ridiculous.
chris noble
Former military man Eric (Dunbar Merrill) feels America is on the wrong track, so the only way to make it right is to unleash a deadly toxin in a federal building that turns people into ravenous, crazed creatures who attack anyone because their adrenaline is heightened and they feel everyone is the enemy. I'm sure there's more to this film than that, but I ended up fast-forwarding through the majority if it, starting when I saw C. Thomas Howell's horrible mustache. Seriously, it looked like they got it from a joke shop.
Joe James
It's hard to take any zombie movies seriously these days besides ones made by George Romero or featuring the words "28 Days" in the title. There are at least two or three new ones coming out every month either straight to DVD or in limited theatrical runs. Honestly, I wouldn't watch any of them if they weren't sent to me for review. That's why I'm thankful that sometimes I'm made to watch movies I wouldn't necessarily give a chance. That's how I felt about "The Terror Experiment" when the end credits rolled. "The Terror Experiment" isn't anything new. It's not really trying to break any new ground that I can tell. It's merely providing more entertainment for fans of movies like "Night of the Living Dead," "28 Days Later," and "The Crazies." The combination of Jason London ("Dazed and Confused"), Judd Nelson ("The Breakfast Club"), C. Thomas Howell ("The Outsiders"), and Robert Carradine ("Revenge of the Nerds") in the cast is almost like an attempt at stunt-casting a reunion of 1980s/1990s teen stars. It just adds to the fun atmosphere this film provides. The only downside for consumers is the lack of bonus material on the Blu-ray version. http://contributor.yahoo.com/user/849014/eric_shirey.html
Eric Shirey
The Terror Experiment (Fight or Flight) Quotes
There are no approved quotes yet for this movie.