The Testament of Dr. Mabuse
(1933)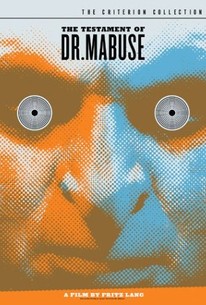 The Testament of Dr. Mabuse Photos
Movie Info
In this sequel to Dr. Mabuse, The Gambler, the mad Dr. Mabuse is imprisoned in an insane asylum, yet he continues to run his crime empire. In his cell, he plots the world's destruction. After the mad doctor dies, the asylum's director is possessed by the soul of Mabuse.
Rating:
NR
Genre:
, , , ,
Directed By:
Written By:
In Theaters:
On DVD:
Runtime:
Studio:
Criterion Collection
Critic Reviews for The Testament of Dr. Mabuse
Audience Reviews for The Testament of Dr. Mabuse
In spite of the efforts of men like Johannes Schultz and Gustave Le Bon, hypnosis was often viewed as something supernatural or other-worldly well into the mid-twentieth century. This was not lost on German director Fritz Lang who made full use of public misconception here in this spin off of M. Though it's science is flawed, the rest of the film is well ahead of it's time. Lang's use of sound to tie scenes together (i.e. a ticking time-bomb becomes a man tapping on his breakfast egg) worked so well that similar effects are still being used today. The specter of Dr. Mabuse and his hypnotic mind control manifests itself in ghostly apparitions which Lang presents in transparent fashion, complete with makeup that is almost as effective and frightening today as it was in 1933. Don't expect this to be in the same league as Lang's landmark crime drama M, to compare the two would be unfair. The Testament of Dr. Mabuse is much more of a ghost story, a horror film, than it's predecessor but it is very much a classic in it's own right. Anchored in realism but delving far further into the macabre and the surreal.
Randy Tippy
Super Reviewer
Fritz Lang always makes such an interesting study, and despite having not seen the rest of the series, I really enjoyed this film. Lang's oeuvre is a forerunner to many of the films - and genres themselves - that we've come to take for granted. This installment in the series is a gangster film, effectively, except for the gang is more hell-bent on terrorist objectives than good old-fashioned cash-grabbing. Now add a haunting on top of the standard gangster fare, and make it all look like the first noir film you can imagine... you're basically there. Not the easiest to watch (as it's over 70 years old and the editing jumps around due simply to the restoration efforts made), but well worth it, once you're into it Lang's film proves exciting. And of particular note, there's one scene where an evil directive to the gang of terrorists is found to be coming from a recording... still quite topical, surprisingly...
Daniel Perry
Super Reviewer
"the testament of dr. mabuse" is fritz lang's perverse thriller upon mental hypnotization as manipulative apparatus of evil saboteurs. dr. mabuse is a deranged assylum patient who scrabbles abstract manuscripts to puzzle his patriachist who descends as his surrogate puppet headleader of underground destructive activities. eventually evil is infectious in its ceaseless delivering. the scene of patriachist being possessed by dr. mabuse's evil spirit is macabrely spooky. mabuse with piercing sight and slanted sharp nose penetrates into the doctor's soul, and the envirnoment is hauntingly surrounded with the disfigured skulls of abnormal sinister men upon the shelf as specimen. one evil passes forward another as the vicious circle that is a metaphor of nazi's brain-rinsing control over the germany. lang transcends the patriachist/inmate reversion into a mythical analogy of social criticism, and the case pf dr. mabuse would be one of early cinematic human-beast who pestles the world in his absolute demonology that is satan conquers all in the end, far more sinister than the anthony hopkins' "cannibal lecter".
Veronique Kwak
Super Reviewer
Discussion Forum
Discuss The Testament of Dr. Mabuse on our Movie forum!