The Tower
(2012)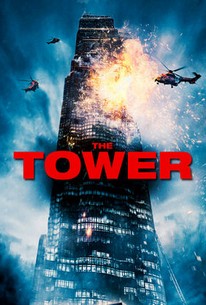 Movie Info
Lee Dae-ho is a single father and manager of the 120 story luxurious landmark building complex, Tower Sky in Seoul. He is an earnest employee liked by his colleagues and is secretly in love with Seo Yoon-hee, a restaurant manager. The owner of the complex, Mr. Jo decides to hold a "White Christmas" party for tenants and VIPs on Christmas Day, with helicopters circling above, sprinkling snow onto the party. Whilst the party is in full swing one of the helicopters crashes into the building and the building catches fire. Dae-ho moves quickly to save his daughter Ha-na, Yoon-hee and his colleagues.
Critic Reviews for The Tower
Audience Reviews for The Tower
½
This is what happens when Korea tries its own version of The Towering Inferno, except it's far more melodramatic and, thankfully, much shorter than The Towering Inferno. I think the set-pieces and the effects are well-done, but this takes precedence over actual character development. The first 30 minutes of the film consists of introducing the characters and showing them as happy as is humanly possible in lieu of actually giving them fully formed personalities. I'm assuming this was done in the hope that seeing them so happy would, in turn, help you care more for them during their ordeal. It didn't work, of course, because everything before the helicopter crashes is so perfect and happy that you just kinda hope that the disaster happens quicker. I really was sickened by this happy, sentimental set-up. It was way too sugary and phony for my tastes. How about you actually give these characters personalities before you expect me to care for them? With a large cast such as this, I realize this is easier said than done. In that case, take out characters you don't really need and choose to focus your story on a more contained, small group of people. By focusing on such a large cast of characters, you really don't care for anybody. And, again, I don't care how sad your score is, that isn't going to make me care for characters that I know nothing about. I realize every country has this, but I've noticed it the most in Korean films. And I say this as a man that loves Korean cinema, but a lot of their movies rely on melodrama and sentimentality to get their point across, rather than actually creating interesting characters. You usually see this in their comedies. Sometimes these melodramatic aspects come out of nowhere, like literally out of nowhere, just so they have some drama in their movie. And I'm sick and tired of it. This film isn't as bad as the worst of them when it comes to sentimentality, but it's still there. They're trying to manipulate you and I just can't stand it anymore. There's only one legitimately interesting character in the entire film, and that's the captain of the firefighters that go in the building. He was pretty much a heroic badass. He has this little "subplot" of where he's trying to save his marriage, and the night the helicopter hit the tower was actually a night where he had already finished his shift, and he also had the next day off, so he had more motivation than most to get out of the tower alive. I did think he was the only interesting character in the film, and the one you care most about. And there's a poignant little scene at the end reminding you of the "sacrifice" he made. The movie really is average at best, the disaster stuff is perfectly fine and well-shot by my estimation, but the story is absolutely preposterous and sometimes nonsensical. I think most people will certainly like this movie more than I did. It had its moments but its overly sentimental set-up AND payoff really did a number on my enjoyment of the film. This isn't bad, it has a good cast, as most Korean films do, but the movie is definitely lacking.
Jesse Ortega
Super Reviewer
Kim Ji-Hoon delivers the highs and the lows of The Tower.
2 hours is quite the journey to get through the tower. While the first quarter of the film, also known as the opening act, is full of cheer and character buildup, it isn't able to build up the plethora of characters enough; however, it does build a few well. Within a blink of an eye, all the Christmas cheer is gone and things heat up as the story goes from intense moment to intense moment. Predictable? Perhaps.
The CG sits on the borderline between good and great with a strong finale to top it all off. It definitely benefits this film more than it hurts.
Kyung-Gu Sul is fantastic. As the minutes go by, his character nearly overshadows everyone else. The lovely Ye-Jin Son is a sight for sore eyes and Sang-Kyung Kim is an acceptable second lead.
Despite some good writing, The Tower isn't highly original, yet it is recommendable.
The Tower Quotes
There are no approved quotes yet for this movie.