The Town That Dreaded Sundown
(2014)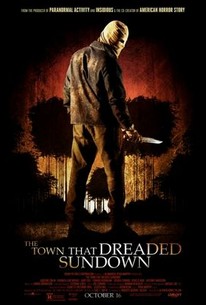 The Town That Dreaded Sundown Photos
Movie Info
65 years after a masked serial killer terrorized the small town of Texarkana, the so-called 'moonlight murders' begin again. Is it a copycat or something even more sinister? A lonely high school girl, with dark secrets of her own, may be the key to catching him.
News & Interviews for The Town That Dreaded Sundown
Critic Reviews for The Town That Dreaded Sundown
Audience Reviews for The Town That Dreaded Sundown
½
Interesting, but not that great. I do like how it kind of breaks the fourth wall and plays off of the 1970s film, as well as the real events to some extent, and gives an idea of what it's like to live in a town whose history is overshadowed by horrible events.
Stephen Skudlarek
Super Reviewer
The concept behind the film, The Town That Dreaded Sundown, is actually a lot more interesting then the film itself. From the minds behind American Horror Story, comes a tale that is based on the true story of The Phantom Killer, who was active in Texarkana, Texas during 1946. The story was originally turned into a successful film in 1975, but rather than re-make it or do a sequel, the writers went in a totally different direction, one that I've never seen before. This film takes place in 2014 and acknowledges the story and even the previous film. In fact, clips of the original film are seen throughout this movie, and even the son of the original Director plays a part in this new film, which sees the Phantom Killer return after a nearly 70 year absence. Addison Timlin stars, following her leading role in Odd Thomas, and with new challenges comes experience. While I loved Odd Thomas, I thought she was terrible, but in this film it's a complete turn around, as Timlin is the strong female lead a film like this requires. As for the film itself, besides it's interesting play on the previous film, it really wasn't much more than your typical whodunit slasher film. Interesting to note though, unlike the first film, this movie was shot at the actual crime scenes from 1946. It also marks the last on screen appearances of both Edward Herrmann (Gilmore Girls) and Ed Lauter (Shameless, ER) who died shortly after filming. I love the concept of this film, it displays just how talented and imaginative the team behind American Horror Story and the upcoming American Crime Story really are, but overall, if you've seen one slasher film, sadly, you've seen them all.
Todd Smith
Super Reviewer
Beautifully shot, scored and edited horror with a brutal, Zodiac vibe. The meta way it references the original film (which I haven't yet seen) doesn't always work, and the story beats are occasionally a bit clumsy, but this is a brilliant debut film - in parts genuinely scary, disturbing and thrilling.
Daniel Parsons
Super Reviewer
The Town That Dreaded Sundown Quotes
There are no approved quotes yet for this movie.