The Trials of Darryl Hunt
(2007)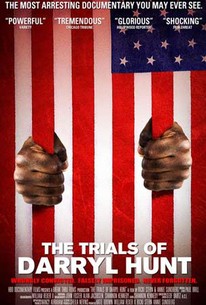 The Trials of Darryl Hunt Photos
Movie Info
In 1984, a young white newspaper reporter, Deborah Sykes, was raped, sodomized and stabbed to death just blocks from where she worked in Winston-Salem, N.C. Based on an ID made by a former Klan member, a 19-year-old black man, Darryl Hunt, was charged. No physical evidence linked Hunt to the crime. Hunt was convicted by an all white jury, and sentenced to life imprisonment. In 1994, DNA testing cleared Hunt, yet he would spend another 10 years behind bars. "The Trials of Darryl Hunt" chronicles this capital case from 1984 through 2004. With personal narratives and exclusive footage from two decades, the film frames the judicial and emotional responses to this chilling crime--and the implications surrounding Hunt's conviction--against a backdrop of class and racial bias in America. This unique look at one man's loss and redemption challenges the assumption that all Americans have the right to unbiased justice.
News & Interviews for The Trials of Darryl Hunt
Critic Reviews for The Trials of Darryl Hunt
Audience Reviews for The Trials of Darryl Hunt
½
As the title quite clearly specifies, the movie is about the trials of Darryl Hunt. The movie focuses on the proceedings of the case since Darryl's arrest till his exoneration. What I found favorable was: - It was not all things Darryl Hunt, just telling his life story unnecessarily dragging it to his childhood memories. - That it didn't pan the police & legal system heavily (regardless of it being due at times). - That it put the story of around 20 years in a nutshell effectively enough. The unfavorable elements may be: - At times, though not often, it tends to get repetitive. - While it sums up the case in around 2 hours appropriately, it doesn't give a wholesome picture of the case. It rushes on with the real culprit's part. As if it were going to turn the movie about him than Darryl Hunt. It's given incredibly less footage. The film fares well enough to depict majority of the case. It works in bits & parts more than less, but isn't equally effective on the whole. As for Darryl Hunt himself, it's probably yet another case of miscarriage of justice. But I couldn't help wondering if he'd have been serving time for some other crime had he not been in prison for Sykes' murder. Of course, it's not fair to judge one on the basis of their colleagues/group. One can't help much when instincts come up with some hypothetical scenario, though. Having said what I needed to, I finally realize that this is not an appropriate place for such discussions, and that I should better limit my comments related to the movie in question.
familiar stranger
Super Reviewer
The Trials of Darryl Hunt Quotes
There are no approved quotes yet for this movie.