The Trip
(2011)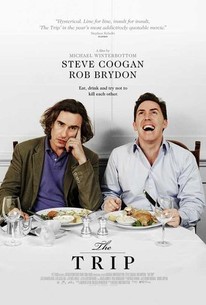 TOMATOMETER
AUDIENCE SCORE
Critic Consensus: Amiable, funny and sometimes insightful, The Trip works as both a showcase for the enduring chemistry between stars Steve Coogan and Rob Brydon and an unexpected perusal of men entering mid-life crises.
Movie Info
Playing loose versions of themselves, Steve Coogan and Rob Brydon reprise their hilariously fictionalized roles from Tristam Shandy: A Cock and Bull Story and reunite with acclaimed director Michael Winterbottom for an acerbically witty, largely improvised ride through the English countryside. Tapped by The Observer to review fine restaurants throughout the Lake District and Yorkshire Dales, Steve finds himself without a traveling companion after his girlfriend decides not to go at the last minute. After being turned down by everyone else he knows, Steve extends an invitation to Rob, and together the pair attempt to navigate the winding back roads of rural England, impersonating popular celebrities such as Michael Caine, Woody Allen and Liam Neeson (among many others) and bickering along the way. -- (C) IFC
News & Interviews for The Trip
Critic Reviews for The Trip
Audience Reviews for The Trip
½
A funny and charming two-men mockumentary (of which most is improvised), edited from the BBC TV series and relying on a great chemistry between Coogan and Brydon - and it is almost impossible not to laugh hard at their hilarious impersonations and remarks on the food.
Carlos Magalhães
Super Reviewer
A wonderfully entertaining, charming and very smart road-trip comedy. A classic buddy comedy between these two friends who have some of the best chemistry and improvisation that i have ever seen. Their does not even need to be a script, just these two mad men talents going at it with character development, exotic locations, delicious dishes, brilliant impersonations and huge laughs. A flat-out funny movie that's a real good-time. A film about friendship and other adult conversations that just not include food but bout life, sex, children, relationships and careers. A beautifully crafted and superbly performed movie.
½
The Trip is akin to those "reality" TV programs shown on crime TV where they re-enact the crime in question; with the camera faithfully recording the occurrence. Here you have an entire film that on the surface seems spontaneous (especially given that there is no credit given to a screenwriter), and yet one can't help but realize that each and every bit of story and dialog is being shown to you on screen - meaning, of course, that there was a camera present at all times. This then brings into question the credibility of the entire enterprise, but if you can get past the cinematic slight of hand, you end up with some very witty dialog and laugh out loud funny repartee (usually given in celebrity voices as both leads, Steve Coogan and Rob Brydon are gifted mimics). But as these 40 something lads go joking their way through northern England, there is a melancholy undertow that is slowly revealed - making the coda of the film quite stirring and poignant. In the end you can reflect back on these two characters and how petty jealousy seems to ride shotgun in the Land Rover they use to get from one idyllic village to the next - and truly wonder if that jealousy is indeed petty or if Coogan's character realizes where he is in life and that all his victories thus far pale when compared to the solid family relationship of Brydon, who has what Coogan only subliminally acknowledges as his desire - to have the true love and support of a woman (even though he may be emotionally incapable of handling such a relationship). His return to an empty flat perfectly symbolizes the emptiness of his life at this juncture. Pretty deep stuff for a "comedy" that on the surface is really about.... Well nothing much - and that's the beauty of it - revelation through the mundane. There is a scene towards the end of the film where Coogan and Byrdon visit Coogan's parents on the way back to London - when Dad asks which route Coogan is going to take, he then, upon hearing the route, shakes his head and says "that way will never do - there's too much in the way of roadblocks - better to retrace your path" - a metaphor for Coogan's life if ever there was one.
paul sandberg
Super Reviewer
The Trip Quotes
| | |
| --- | --- |
| Steve: | Don't you find it exhausting running around, chasing girls? |
| | |
| --- | --- |
| Steve: | Gentlemen to bed, for tomorrow we leave at 9:30! |
| | |
| --- | --- |
| Steve: | Was there a lot of alcohol in your garden as a child? I'm sorry, Rob |
| Steve: | Was there a lot of alcohol in your garden as a child? I'm sorry, Rob. |
| | |
| --- | --- |
| Steve: | I don't chase them. |