The Unnamable II
(1992)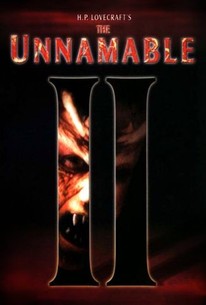 AUDIENCE SCORE
Critic Consensus: No consensus yet.
Movie Info
The demonic, part-human creature Alyda returns to Earth and wreaks more bloody havoc in this horror sequel, based upon a story by H.P. Lovecraft. It's up to two college students who survived the demon's first attack to find a way to stop her.
Rating:
R
Genre:
Directed By:
Written By:
On DVD:
Runtime:
Studio:
The Unnamable Productions Co.
Critic Reviews for The Unnamable II
There are no critic reviews yet for The Unnamable II. Keep checking Rotten Tomatoes for updates!
Audience Reviews for The Unnamable II
½
After enduring the fiasco that was The Unnamable last year, I wasn't exactly doing cartwheels at the prospect of a sequel. Directly continuing from the events of its predecessor, it garners kudos for at least attempting to translate H.P. Lovecraft's penchant for Chthulu, Arabic annotations and quantum physics. However, this is still an overcooked, cockamamie misfire that attempts embarrassingly forced, fish-out-of-water humor around Maria Ford's nubile, unclad body. For chauvinistic males, they can salivate over her T-&-A quotient while she is too monosyllabic to object to them ogling her assets. It drudges through a Quatermass hypothesis of residing in two planes of existence for nonsensical, pseudo-intellectual drivel ("It is my daughter but it is not my daughter and that which is not my daughter..."). Horror fans will be lulled into a slumber since most of the runtime is allocated to verbose talkiness about 17th century curses. Mary Kinsey Stephenson is the poor man's Herbert West once again with feeble efforts at one-liners ("Fancy seeing you here" when he resurfaces from a grave site). He is the snobbish, charmless equivalent of Niles from Frasier. The fright set pieces are substandard at the best (the creature's zipline flying effects) and horridly laughable at the worst (the library stacks chase is described like Minos' labyrinth - "People get lost in them during the day"). Somehow, the filmmakers cajole the prestige of David Warner and John Rhys-Davies into supporting roles but their presences are short-lived (mercifully for their reputations). Rather than the static compositions of the first film, the camera actually slides occasionally. Therefore, the production value might be higher but the overall quality hasn't transcended a Syfy Original.
Cory Taylor
Super Reviewer
A watchable and completely unremarkable sequel to 1988's "The Unnamable" that picks up right where its predecessor left off. Randolph Carter, his friend Howard and Professor Warren delve into vaguely Lovecraftian horrors after demon-girl Alyda Winthrop has been bound by a tree root in the tunnels beneath the Arkham cemetery. Howard is visited in his hospital room by the ghost of Alyda's father who reveals that Alyda is really two creatures rolled into one. Carter and Warren shoot Alyda up with insulin, driving the demon out of her body. The demon can't live without the mortal form, though, and so spends the rest of the film pursuing Alyda and tearing her way through the student body of Miskatonic University and the Arkham police department. The material here is barely Lovecraftian. The story is only based on the short stories in the loosest sense. Carter gets his hands on the Necronomicon, for instance, which was checked out of the university library by Alyda's father in 1688 and never returned. There are passing references Cthulhu and Abdul Al-Hazred and various other Lovecraftian terms are sprinkled liberally throughout the flick. It's all quite superficial, though. What we've got here is a pretty nondescript 90s horror flick with a little blood and a now-human Alyda clad only in her own hair for most of the film. If you've really wanted to get a good look at minor TV actress Maria Ford's butt, this is your big chance; it's featured prominently in "The Unnamable II." There are enough humorous touches to keep things from getting monotonous, via the deadpan delivery of Mark Kinsey Stephenson as Randolph Carter and one of the silliest climaxes you're ever likely to see in a horror flick. In the monster suit is scream queen and general hottie Julie Strain, entirely wasted in this role as she claws at the air, screams, and is dragged across a set on wires as demon-Alyda "flies" from a balcony. It's all rather mindless and oddly amiable, but nothing memorable here. Just another OK horror flick. If you watch this sequel out of a love of Lovecraft, you'll probably be disappointed. If you're looking for light creature feature entertainment and an excuse to shut off your brain and have a mildly gory giggle, you could do worse. If it's true terror you want, move on. This one won't scare anyone over the age of about 10.
Brian Seitzman
I enjoyed this more than the first, as the plot was actually more like a Lovecraft story in it's structure and content. It also takes itself a bit less seriously, which makes for better viewing entertainment. It's still fairly average, though enjoyable enough if you're not looking for a masterpiece of horror cinema. I love the realisation of Randolph Carter though, a proper Lovecraftian hero who fights with knowledge rather than weapons and is fond of making dramatic pronouncements.
The Unnamable II Quotes
There are no approved quotes yet for this movie.
Discussion Forum
Discuss The Unnamable II on our Movie forum!