The Vanguard
(2008)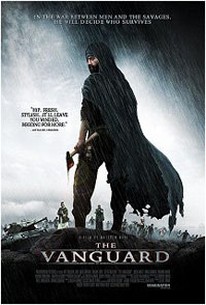 AUDIENCE SCORE
Critic Consensus: No consensus yet.
Movie Info
In an apocalyptic future where the human race is poised on the brink of extinction and science has created the ultimate abomination of nature, a lone hunter gatherer realizes the essence of his being while fighting to survive. The year is 2015: the world's petroleum reserves have been depleted due to the oil wars, and the planet has fallen into a hopeless cycle of death and destruction. In an effort to remove the less desirable components of the human population, a powerful organization known only as The Corporation set into motion a heinous depopulation program. But The Corporation didn't expect their scientists to revolt, and in a desperate attempt to save the human race the disgruntled intellects created a drug that reverts normal humans into primitive, instinct-driven beasts known as Biosyns. Biosyns are virtually blind, relying almost entirely on scent and sound to stalk their prey. Max is a young man who lives by himself in the wilderness. Most of his days are spent eliminating as many Biosyns as possible, but lately he's been noticing something strange among the creature's ranks; not only are they beginning to communicate, but they're starting to travel in groups and their vision seems to be returning as well. The Corporations views Max's existence as a threat, and no they've dispatched a squad of genetically engineered soldiers known as Trackers to dispatch with him. But as the chief tracker watches Max battle a raging horde of Biosynths, he begins to reevaluate his original mission. Perhaps if Max and the Tracker can travel far enough south they will be able to find a place of refuge. According to travelers Zac and Rachel, there's s powerful resistance movement down south. Now, as this unlikely group struggles to find a way out of the wasteland, they stumble right into the middle of a violent war between the raging Biosyns and the Corporation's increasingly strained army. ~ Jason Buchanan, Rovi
Critic Reviews for The Vanguard
There are no critic reviews yet for The Vanguard. Keep checking Rotten Tomatoes for updates!
Audience Reviews for The Vanguard
½
I am not sure if these Biosyn infected people qualify as zombies, but that broaches the whole "Do infected rage people who break some traditional zombie rules still count as zombies?" And I say yes, because they are addressing the same issues of apocalypse, human vs. altered human, survival, etc. And let us not forget that the "modern zombie" (the Romero zombie) is quite a departure from the pre-existing Voudon zombie, so it is only fair that the infection zombie make some big departures from the undead cannibal or modern zombie. Still, these things are not strictly zombies and sorry to cut into a brief genre analysis, but that is what the person I was watching this with posed to me so I carry over this awareness into this review. In terms of visuals, the cinematography is much better than expected for a low budget; in fact, it has some very beautiful highlights that definitely registers above average. Some little CGI bullets and bullet flash are annoying,but the CGI "throbbing/pulsating infection spots" look incredibly cool. The story is cool but not totally innovative (synopsized) for the apocalyptic genre, offering more of a mashing of many elements we have seen and read before. It is executed nicely with rapid plot turns to keep one engaged. The acting is a bit on the poor side, which is the only big problem with this film. The Biosyn-zombie creatures also walk very funny (they run hunch-backed) so it is tough to take them seriously. The rest of the plot focuses on corporation soldiers and "resistance" soldiers and other fringe survivors, which is more interesting and is obviously all about revealing what the whole Biosyn thing is and why it is.
_kelly .King
Super Reviewer
½
Low budget zombie-esque yarn about a man who may be the key to curing the world of the 'infected'. Has some interesting concepts but the problem lies in its muddled and somewhat derivative script. Oh and a very distracting beard. Not a bad effort just kinda boring and confused.
A.D. Villarreal
Super Reviewer
Here's an interesting take on the zombie genre that leaves you wondering on the outcome. Quite good. Worth seeing!
The Vanguard Quotes
There are no approved quotes yet for this movie.
Discussion Forum
Discuss The Vanguard on our Movie forum!