The Victim
(2012)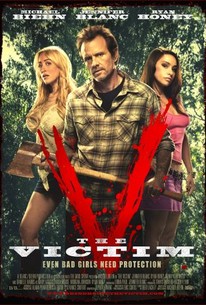 Movie Info
Good time girls Annie (Jennifer Blanc) and Mary (Danielle Harris) find themselves in a life and death situation. Annie's life is put in jeopardy when she is witness to a violent act at the hands of two Sheriff's Deputies. Fleeing from attackers (Ryan Honey, Denny Kirkwood) she stumbles across Kyle (Michael Biehn), a recluse living in the middle of the woods. The ruggedly handsome loner stays far from civilization - that is - until a single knock on his door throws his solitary life into chaos. Two worlds collide in this psychological thriller that will make you question your trust in mankind. Who is the victim? -- (C) Official Site
Critic Reviews for The Victim
Audience Reviews for The Victim
½
A simple story with a good twist at the end. Not the greatest acting, but Danielle Harris was amazing as always.
Eric Napolitan
Michael Biehn's writing/directorial debut is a total dud. Very loose concept, poor acting, sequences that drag way too long and pointless flashback scenes. Michael Biehn is one of my favorite actors has built a great reputation. Best known as Kyle Reese in The Terminator, not to mention as Corp. Dwayne Hicks in Aliens and Hiram Coffey in The Abyss, Reese's performance is shockingly deadpan with very little to no emotion. A man of his talents should not be this bad. The supporting cast wasn't great either. Jennifer Blanc (Biehn's wife in real life) plays a stripper trying to hide from some corrupt cops that kill her friend. Her performance is just as bad with the exception of a sex scene between her a Biehn. Hmmm go figure right? There is a moment in the movie where the attitude of the two main characters goes completely 180 which didn't make sense to me at all. I surely hope the next time Michael Biehn does another film, it is a lot more innovative with better actors and a well drawn plot. I truly was a victim in watching this very crummy film.
Adam Cook
I got 45 mins into this and had to stop watching. The writing was terrible and the only good actress was Danielle Harris. The attempts of having suspense were completely failed and it seemed like the writers put in a sex scene at every chance they got. Don't waste your time with this.
Josh Chanowitz
Discussion Forum
Discuss The Victim on our Movie forum!