The Violent Men
(1955)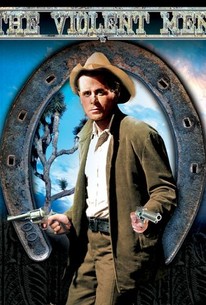 AUDIENCE SCORE
Critic Consensus: No consensus yet.
Movie Info
This western follows the struggle of peace-loving rancher John Parrish as he tries to prevent being driven off of his land by wealthy crippled landowner Lew Wilkinson. However, when one of Parrish's men dies at the hands of one of Wilkinson's thugs, Parrish puts aside his pacifism.
News & Interviews for The Violent Men
Audience Reviews for The Violent Men
151228: Between the vindictive, self-serving, backstabbing Martha Wilkinson (Barbara Stanwyck) and the ultimatum wielding Caroline Vail, the women in this film got me riled. I was sucked right in by this duo and further by John Parish's (Glenn Ford) apparent unwillingness to invest in protecting his employees, friends and community. And that was all before the film was half over. I was so annoyed I was almost going to it off but then things started to go the way this old western fan wanted, and was conditioned to expect. Martha's true black-hearted nature was revealed, Parish turned out to be as coy as I had hoped and it wasn't over yet. Corruption and vigilante justice was to follow. Moviegoers must have reviled Stanwyck for years afterwards? Credit to such an old western for playing me so well. It's been awhile since I felt this passionate about a story. To top it off, there is an impressive stampede scene near the end as well as a realistic Wild Bill Hickok, Davis Tutt showdown. This film has it all and is now one of my favorites.
John Redshaw
I guess I'm out of the habit of taking advice. John Parrish is a former Union military general that has settled on a ranch in the west with a large estate, group of cattle, and land to be tended. He has met the love of his life and would love to sell and move back east; however, a rich man who owns the city and law enforcement wants to strong arm the land owners to all sell their land to him. John bends and bends until he eventually breaks and will eventually have to snap back against the rich rancher. "You can't trust a man who will send six killers to shoot an old man in the back." Rudolph Mate, director of Foreign Correspondence, Gilda, To Be or Not to Be, The Passion of Joan Arc, The 300 Spartans, and The Prince Who was a Thief, delivers The Violent Men. The storyline for this picture is very interesting but fairly straightforward with few unexpected outcomes. The cast delivers solid performances and includes Glen Ford, Barbara Stanwyck, Brian Keith, Edward Robinson, and Jack Kelly. "I'd sooner to settle down then to be forced later." This movie was recommended to me by Verizon Fios so I DVR'd it off Encore Western. I expected a little more from this I guess. I thought the main character could have been more dynamic and entertaining. Overall, this is a slightly above average western that is only worth watching if you're a fan of the genre, but I wouldn't go too out of my way to see this. "I'll keep fighting him until one of us is dead." Grade: C+
Kevin Robbins
Lurid way over the top western with Barbara oozing malevolence.
The Violent Men Quotes
| | |
| --- | --- |
| Jim McCloud: | They're burning the ranch |
| John Parrish: | 'What did you think they'd do, give it a fresh coat of paint? |
| John Parrish: | What did you think they'd do, give it a fresh coat of paint? |
| | |
| --- | --- |
| John Parrish: | "Don't force me to fight because you won't like my way of fighting" |
| John Parrish: | Don't force me to fight because you won't like my way of fighting. |
Discussion Forum
Discuss The Violent Men on our Movie forum!