The Voice of a Murderer (Geu nom moksori)
(2007)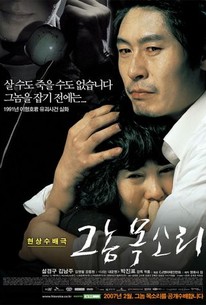 AUDIENCE SCORE
Critic Consensus: No consensus yet.
The Voice of a Murderer (Geu nom moksori) Photos
Movie Info
Director/screenwriter Park Jin-pyo crafts this emotionally pointed docudrama based on the 1991 kidnapping of a young South Korean boy whose abductor sadistically taunted the child's parents over the course of a grueling, month-long period. Television news anchorman Han Kyung-bae and his devoutly religious, stay-at-home wife Oh Ji-sun both love their timid, nine year old son Hwang-sun as much as any devoted mother and father would. Though the rigorous exercise regiment and strict diet they subject the reticent child to may seem harsh to the casual observer, all they want is for him to shed some extra weight so he'll live a long and happy life. The doting parents find their lives turned upside down in an instant however when one day, Hwang-sun vanishes without a trace. Their worst fears are confirmed when, shortly thereafter, Hwang-sun's abductor calls to demand a sizeable ransom. Though Han Kyung-bae and his wife are willing to pay any amount of money to ensure their child's safe return, the exchange proves unexpectedly complicated as a parent's worst nightmare slowly snowballs into tragedy. Over the course of the next forty-four days, the frighteningly calm and confident kidnapper taunts the grieving parents with a series of relentlessly cruel telephone calls, gradually drawing Han Kyung-bae and Oh Ji-sun's failures, mistakes, and regrets out into the open while forcing them to endure a slow-burning hell of misery and despair. ~ Jason Buchanan, Rovi
Critic Reviews for The Voice of a Murderer (Geu nom moksori)
There are no critic reviews yet for The Voice of a Murderer (Geu nom moksori). Keep checking Rotten Tomatoes for updates!
Audience Reviews for The Voice of a Murderer (Geu nom moksori)
It is said that this movie is based on real facts. It certainly looks like real life, the events going on painfully chaotically. However, it gets funnier and funnier once you decide not to get involved.
Alice Smith
Super Reviewer
½
Perhaps a change is necessary for the English title of this film. Change it to Voice of a Kidnapper, title sort of gave it away there, removing any tension from the film. Though I'm not sure there would have been any anyway. The Voice of a Murderer is an acceptable piece of work but it never quite reaches it's goals. Tension? No. It isn't built and as such there's no pay-off. People just go to meeting spots and back again. Emotion? Hardly. The film spends too long on the procedural elements. There are some wonderful scenes, such as the drunken father driving over a speed-bump again and again, whilst there's a cop staking out in his trunk. It's never enough though. Chilling? Nope. The kidnapper never seems like a threatening character. Only the final few minutes, where the actual recording of his voice is played, bring a few goosebumps with it. Exciting? Never. It seems so determined to tell it's story, it forgot that some kind of affect has to be had on the audience. Unlike another Korean true story Memories of Murder which was tense, scary, funny, thrilling and moving.
Luke Baldock
Super Reviewer
½
Run of the mill korean child kidnapping story based on a true incident in 1991..fairly dramatic with spot-on acting performances from the cast. The film just seems to be a collection of wild goose chases and running here and there..there is little suspense build up (since the title of the movie removes all the mystery) . It does show in convincing fashion the frustration of the parents and the ineptitude of the police; however the kidnapper seems to be omnipresent; he knows what is always happening and sees everything; without any explanation in the film why that's the case. Nevertheless, you will watch it in its entirety to see how it is resolved. Way too much angst, overly maudlin and quite depressing..and no resolution at the end either...a more effective movie of this genre is "Memories of Murder", another korean film that covers an unsolved killing more effectively.
The Voice of a Murderer (Geu nom moksori) Quotes
There are no approved quotes yet for this movie.