The War Within
(2005)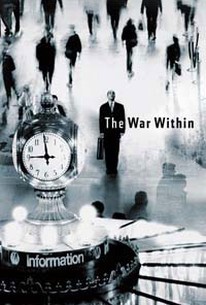 Movie Info
The drama The War Within attempts to put a human face on a suicide bomber. Ayad Akhtar plays Hassan, a student from Pakistan matriculating in Paris. He is arrested for being a possible terrorist, and his brutal handling puts him in the mood for revenge when he eventually gets released. He becomes involved in a terrorist organization and eventually makes his way to the United Sates in order to carry out a bombing plot. When the other members in the plan are arrested, Hassan begins living with an old friend of his who lives a normal American life. Hassan begins to question his desire to go through with the bombing plot when he sees the happiness of his old friend.
Critic Reviews for The War Within
Audience Reviews for The War Within
This movie is just not very good. The plot is mildly interesting at best. The acting is mediocre. And it appears as though the budget was somewhere in the ballpark of 30 bucks.
Amanda Hendsbee
The War Within succeeds only as a thriller with some wartime overtones, rather than as a character study that thrills. Sometimes too pat and sometimes ragged with omissions and confusions, but it's still a fascinating look outside of that familiar world and into a harsher one.
Lee Mayo
What brings a man to strap explosives to his body and head to Grand Central Station? Definitely a movie that could generate some lively discussion and debate. Passion and conviction depicted without over the top theatrics...beautiful shots of NYC...moral and philisophical questions for contemplation. I really liked the late night conversation between Hassan and his best friends son where he tries to, in basic terms, explain what is happening overseas to his 'brothers and sisters'. "What would you do if your neighbors decided they wanted to take your house and force you to move to the backyard? And, they had the police on their side. And then, what would happen if they found there was oil under the backyard and they wanted that too so you had to leave and they had the mayor on their side? What would you do?" Eventually, the little boy says, 'Fight'. 'Your government takes actions of which its people are unaware. But ignorance is not innocence.'
jim d
The War Within Quotes
There are no approved quotes yet for this movie.
Discussion Forum
Discuss The War Within on our Movie forum!