The War Within
(2005)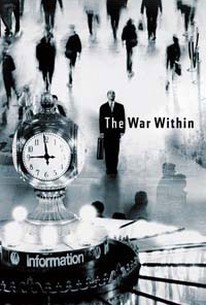 Movie Info
The drama The War Within attempts to put a human face on a suicide bomber. Ayad Akhtar plays Hassan, a student from Pakistan matriculating in Paris. He is arrested for being a possible terrorist, and his brutal handling puts him in the mood for revenge when he eventually gets released. He becomes involved in a terrorist organization and eventually makes his way to the United Sates in order to carry out a bombing plot. When the other members in the plan are arrested, Hassan begins living with an old friend of his who lives a normal American life. Hassan begins to question his desire to go through with the bombing plot when he sees the happiness of his old friend.
Rating:
R
Genre:
,
Directed By:
Written By:
In Theaters:
On DVD:
Runtime:
Studio:
Critic Reviews for The War Within
Audience Reviews for The War Within
While most modern family dramas are concerned with dynamics and generational gaps and most films on terrorism are punched up into action films, this one crosspollinates with astounding effects. The conceit is simple: what if a Pakistani man who feels he is pushed to join the ranks of a terrorist cell confronts a moral dilemma when he reconnects with an old friend in the United States? In the film's first act, the protagonist is on a bus waiting to be dropped off at Grand Central Station carrying a bomb as part of a plan to demolish major landmarks across New York. At the last minute, the plan is foiled, and he is one of two who escapes capture, so he seeks refuge with an old friend and his family. You may be able to predict much of the riffing in the film's middle, particularly when he encounters those who would dissuade or enhance his wavering beliefs, but thankfully the film stays away from the expected by avoiding rampant, unjust persecution of foreigners by United States government. What really puts this film over the top is the blase way in which terrorism is displayed. The protagonist never comes across as a madman, and even as he is seen tampering with bombs, he never feels unsympathetic. Better yet, the film's climax is up for grabs until the final minute. This should appeal to a variety of interested parties, but more than anything, those looking for a good drama that is different from everything else need look no further.
Bryan Way
This movie is just not very good. The plot is mildly interesting at best. The acting is mediocre. And it appears as though the budget was somewhere in the ballpark of 30 bucks.
Amanda Hendsbee
The War Within succeeds only as a thriller with some wartime overtones, rather than as a character study that thrills. Sometimes too pat and sometimes ragged with omissions and confusions, but it's still a fascinating look outside of that familiar world and into a harsher one.
Lee Mayo
The War Within Quotes
There are no approved quotes yet for this movie.