The Wave (Bolgen)
(2016)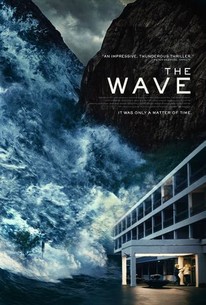 TOMATOMETER
AUDIENCE SCORE
Critic Consensus: Well-acted and blessed with a refreshingly humanistic focus, The Wave is a disaster film that makes uncommonly smart use of disaster film clichés.
Movie Info
Nestled in Norway's Sunnmøre region, Geiranger is one of the most spectacular tourist draws on the planet. With the mountain Åkerneset overlooking the village - and constantly threatening to collapse into the fjord - it is also a place where cataclysm could strike at any moment. After putting in several years at Geiranger's warning center, geologist Kristian is moving on to a prestigious gig with an oil company. But the very day he's about to drive his family to their new life in the city, Kristian senses something isn't right. The substrata are shifting. No one wants to believe that this could be the big one, especially with tourist season at its peak, but when that mountain begins to crumble, every soul in Geiranger has ten minutes to get to high ground before a tsunami hits, consuming everything in its path.
News & Interviews for The Wave (Bolgen)
Critic Reviews for The Wave (Bolgen)
Audience Reviews for The Wave (Bolgen)
½
Deftly bettering a thousand typical Hollywood disaster flicks, The Wave offers up genuinely good characterisation and intelligent writing AND delivers on spectacle. Gorgeous photography, impressive CGI and what at least sounds like coherent science combine to make a really excellent film. The central performances are more than solid and the story beats work well. Finally, and it's a minor point, but it is the only film I can think of seeing (at least in immediate memory) where a very specific human behaviour occurs when someone panics and is convinced they may drown. Just one of the small moments that really impressed me. Bravo.
Daniel Parsons
Super Reviewer
With some very fine acting, "The Wave" is of that unique brand of disaster film that is actually quite harrowing.
Christian C
Super Reviewer
½
Look, I'm not necessarily the biggest fan of disaster movies. You'd think that I'd be into that concept, but I'm really not. Of course I can enjoy great disaster movies when I see them, like the Impossible, but part of me feels that they're really predictable movies that adhere to cliches. What disaster movie, at least recently, have you seen that hasn't followed the formula of family, or a close group of people, becoming separated just before the disaster, whatever form that disaster may take. After the disaster comes the journey to find one another. That's the formula that these films have used, seemingly, for years on end. And there's nothing wrong with that at all, but the concept of the disaster movie itself is really limiting. There's only certain things you can do. You can't subvert the usual tropes related to it, you just can't. Either you have a ton of destruction, like San Andreas or 2012, or you have one major disaster, like an earthquake or tsunami. There's not much you can do with that. But, realistically speaking, in spite of all my problems with the genre itself, this is a really damn good movie. Disaster movies like The Impossible (because it was based on the tragic Indian Ocean earthquake in 2004), or this one, work better than the San Andreas or 2012s of the world because of the fact that not only the situations they put the characters in is realistic, like you can buy into the entire concept because it's well explained and reasoned, and the characters themselves are actually developed so you, surprise surprise, actually care for them once the shit hits the fan. And this movie is no different, you're not thrown into the tsunami right at the start, because that really only comprises like, maybe, 15% of the movie. You're actually given time with them, getting to know them and their personalities. It's not like they were super complex individuals, but there's little bits here and there. Like when Kristian leaves the kids in the car for hours to go back to his old job, when he's supposed to have left to go to their new house already, because he feels that something is wrong with the sensors in the mountains. The kids walk all the way to their mom's job, which is a tourist hotel, and when Kristian finally shows up at the hotel and he's literally terrified to go in and confront his wife after what he did. Idun, his wife, is never shown to be aggressive or anything like that, but it's small stuff like that that shows you what type of relationship they have. Idun is very loving, but tough when she needs to be. And, really, you could say that for any husband that fucks up and leaves his kids alone in a car for hours, but, in this movie at least, it felt more like building up the characters and their personalities. Like I said, these people don't have Travis Bickle-level of complexity, but they're strong characters. So when the tsunami does finally hit, you've already come to care for them and wish to see them escape this horrifying situation unscathed. The tsunami itself, again, only takes up like 15% of the movie, but it is really visually impressive and powerful. The destruction it leaves in its wake is seems like something you'd see in a post-apocalyptic film. So, yea, it was really damn good. And Kristian's journey to be reunited with his wife and son, his daughter is safe and sound, is a strong one as well. Perhaps it's not as emotionally effective as it should be though. I don't know, but when Kristian is finally reunited with his wife and son, and after they tease Kristian's death, there's no real like emotional catharsis, like finally their ordeal is over. I have to give props, because they didn't choose to exploit the characters or their ordeal for cheap melodramatics, but there's still something missing from it. Like I said, there's no real emotional catharsis once it's finally over. So that was weird. The acting is really strong though, so I can't really complain about that much. Despite its flaws, I think it's a movie that definitely works in spite of its adherence to every disaster movie cliche out there. It overcomes that with strong acting and good character development. So it might not be the best movie you've ever seen, but this is still really damn good and an easy recommendation.
Jesse Ortega
Super Reviewer
The Wave (Bolgen) Quotes
| | |
| --- | --- |
| Ristian Eikjord: | An 80 meter wave will overtake the island in 10 minutes! |
| | |
| --- | --- |
| Ristian Eikjord: | We can make it! |