The Way Ahead (The Immortal Battalion)
(1945)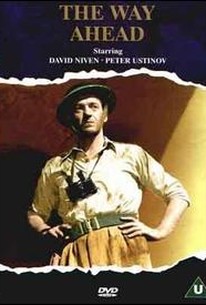 The Way Ahead (The Immortal Battalion) Videos
The Way Ahead (The Immortal Battalion) Photos
Movie Info
The Immortal Battalion has a bit of a convoluted history. It started life as a training film, The New Lot, which ran 44 minutes. When Winston Churchill approached David Niven about creating a film that would do for the British Army what In Which We Serve had done for the Royal Navy, he contacted Carol Reed and suggested expanding The New Lot. The result, written by Eric Ambler and Peter Ustinov, was the acclaimed The Way Ahead. For its U.S. release, Way Ahead was edited to a shorter length and retitled The Immortal Battalion. In either of its feature length forms, the film is concerned with the training of a bunch of raw recruits into a capable and efficient fighting regiment. Niven stars as Jim Perry, a lieutenant and former ordinary guy who finds that he must learn to take a tough line in order to make his wildly diverse crew come together and understand the importance both of the war and of their place in it. Although it takes time and constant effort on the part of Perry and his sergeant, the eight men eventually overcome their different backgrounds and feelings, and transform themselves into a unit which performs its tasks with admirable skill and dexterity, preparing them for their battle against the Desert Fox in Africa. Told in a semi-documentary style, Battalion also features the screen debut of Trevor Howard. ~ Craig Butler, Rovi
Rating:
NR
Genre:
, ,
Directed By:
Written By:
In Theaters:
Runtime:
Studio:
Critic Reviews for The Way Ahead (The Immortal Battalion)
Audience Reviews for The Way Ahead (The Immortal Battalion)
½
Excellent performance by David Niven. The movie kept my interest. I've seen it all before--the ragtag bunch of draftees becomes a top flight fighting unit. It's good, but I doubt I'll watch it again. This was made during WWII so that gives it a slightly different edge.
Morris Nelms
Super Reviewer
½
It's quite a coincidence that the release date of this British wartime production was June 6, 1944. D-Day. Having gained a foothold on Fortress Europe, the allies still had the prospect of the long march to Berlin ahead...and with that daunting task in mind, I'm pretty sure the optimistic tone of this Carol Reed flick was designed to help bolster the public's morale. The theme of the film is certainly a familiar one to moviegoers by now. We follow a rag-tag group of enlistees - representing various strata of British society - and watch as they undergo Army basic training. In time, even this group of misfits is transformed into a well-disciplined fighting unit under the command of Lt. Jim Perry (David Niven) and drill sergeant Ned Fletcher (William Hartnell). It's not until the 2nd half of the flick does the action ramp up a bit. The group boards a transport ship headed for the northern coast of Africa where the forces of General Rommel await them...but before they can get there - disaster strikes. An explosion racks their transport ship and it is soon a raging inferno. The scene is surprisingly similar to one in Humphrey Bogart's ACTION IN THE NORTH ATLANTIC (released a year prior to this). A very young Peter Ustinov has a small role as a cafe owner. Ustinov co-wrote the screenplay. I also didn't notice his name in the credits but Trevor Howard can be seen as the transport ship officer. Being a propaganda film - it's completely sanitized of any overt violence - virtually death-free for a war flick. Only the greater virtues of war and man need be shown. The USA cut even has an added prologue and epilogue equating the british common men depicted in the film to the Minutemen of the Revolutionary War. Interesting. 7 / 10
bernard anselmo
½
An interesting film about the war shot during the war but only for those really into the subject since it is pretty weak compared to some hidden little gems of WWII desert warfare movies.
Ben Gui
The Way Ahead (The Immortal Battalion) Quotes
There are no approved quotes yet for this movie.
Discussion Forum
Discuss The Way Ahead (The Immortal Battalion) on our Movie forum!