The Whistle Blower
(1987)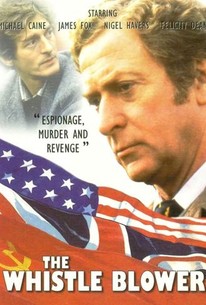 The Whistle Blower Videos
The Whistle Blower Photos
Movie Info
Superpatriotic Briton Michael Caine learns from his son Nigel Havers, a Russian translator with Government Communications Headquarters, that the CIA might have ordered the deaths of some GCH employees to avoid any security leaks. When Havers mentions that he's thinking about blowing the whistle on the sordid goings-on, Caine, convinced that whatever the CIA is doing is for the greatest good, implores his son to keep quiet. Soon afterward, Havers is found murdered. Even after this, Caine refuses to think ill of his government and its allies. It takes the death of investigative reporter James Fox to shake Caine out of his self-denial and to confront the persons responsible for the killings within the GCH. The venerable John Gielgud offers a surprising characterization in this complex conspiracy thriller.
Audience Reviews for The Whistle Blower
(***): [img]http://images.rottentomatoes.com/images/user/icons/icon14.gif[/img] Interesting and with a good cast.
TTT C
Intense drama that puts a citizen against a machine of international espionage in Great Britain. Michael Caine again rises to the occassion in this UK cold war, domestic espionage drama. Great for fans of Caine as a businessman, decorated Korean war veteran who becomes disillusioned with the state of affairs in his beloved England after the death of his son, unlikely target of British intelligence. For a good trailer, see this: http://www.youtube.com/watch?v=EZi-IIZ_Rx8 A war veteran (Caine) tries to investigate the murder of his son who was working as a Russian translator for the British intelligence service during the Cold War. He meets a web of deception and paranoia that seems impenetrable... A good thriller that doesn't resort to inane/unrealistic violence to keep interest. This sobering account of the kind of Cold War hysteria that is thankfully behind us, hopefully. Caine's son mysteriously dies, caught up in Anglo-American intelligence rivalry. Caine doesn't buy the official line of suicide for his son and says over the burial scene of his son's grave "Now I know what it means to be a revolutionary" (or some such comment). The title, The Whistle Blower, seems to refer to Michael Caine who threatens to expose British Intelligence to the media for implication in his son's death. GCHQ, in turn, threatens toss him into an asylum if he so much as picks up a phone. Well done, suspenseful drama that is 90% Michael Caine. Sir John Gielguld stars late in the film as a defector to Russia living comfortably in Britain. NOTES on The Whistle Blower: 1) The film was largely shot on location in Cheltenham, Gloucestershire; home of GCHQ (British Intelligence), which forms the premise of the movie. 2) The Whistle Blower is a 1986 British spy thriller film, starring Michael Caine, based on the novel of the same name by John Hale. 3) In 2010, a U.S. film by the same name, The Whistle Blower, was made but bears no similarity to the 1987 movie. Directed by Simon Langton Produced by Geoffrey Reeve Written by John Hale (book) Julian Bond Starring Michael Caine Barry Foster Nigel Havers Gordon Jackson Sir John Gielgud David Langton James Fox Release date(s) December 1986 (UK) 10 July 1987 (USA) Running time 100 m Country UK
monsieur rick
½
Pretty good, and Michael Caine as always is awesome.
Jason Reneau
Super Reviewer
The Whistle Blower Quotes
There are no approved quotes yet for this movie.
Discussion Forum
Discuss The Whistle Blower on our Movie forum!