The Whole Shebang
(2003)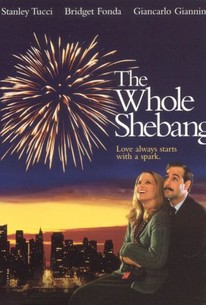 AUDIENCE SCORE
Critic Consensus: No consensus yet.
Movie Info
Documentary filmmaker George Zaloom takes his first stab at fiction with this comedy about a family dominated both literally and figuratively by explosive personalities. Pop Bazinni (Giancarlo Gianini) is an Italian expatriate who runs his family's fireworks business in New Jersey. After his son dies in a explosion in a storage shed, Pop needs a new second in command, and his cousin, Giovanni (Stanley Tucci), is sent from Italy to help with the business, though Giovanni was chosen less for his business acumen than because he needed a change of scenery after a messy breakup with his girlfriend, Maria (Jo Champa), has left him horribly depressed. As Giovanni learns the ropes of both the fireworks business and life in America, Val (Bridget Fonda), the young widow of Pop's late son, finds herself the focus of the loutish romantic advances of Joey Zito (Anthony DeSando), whose mother (Anna Maria Alberghetti) runs a rival fireworks company eager to find out the secret formulas behind the Bazinni's products. Talia Shire and Alexander Milani head up the film's supporting cast.
Critic Reviews for The Whole Shebang
Audience Reviews for The Whole Shebang
Lucas Martins
Super Reviewer
Loved this movie...perhaps because of its emphasis on family above all!? Great cast and supporting cast.
The Whole Shebang Quotes
There are no approved quotes yet for this movie.