The Wind That Shakes the Barley
(2007)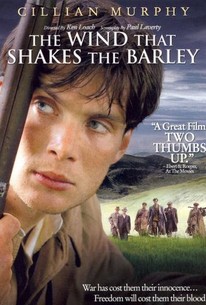 TOMATOMETER
AUDIENCE SCORE
Critic Consensus: Bleak and uncompromising, but director Ken Loach brightens his film with gorgeous cinematography and tight pacing, and features a fine performance from Cillian Murphy.
The Wind That Shakes the Barley Photos
Movie Info
Ireland 1919: workers from field and country unite to form volunteer guerrilla armies to face the ruthless 'Black and Tan' squads that are being shipped from Britain to block Ireland's bid for independence. Driven by a deep sense of duty and a love for his country, Damien abandons his burgeoning career as a doctor and joins his brother, Teddy, in a dangerous and violent fight for freedom. As the freedom fighters' bold tactics bring the British to breaking point, both sides finally agree to a treaty to end the bloodshed. But, despite the apparent victory, civil war erupts and the families, who fought side by side, find themselves pitted against one another as sworn enemies, putting their loyalties to the ultimate test.
People Who Like this movie also like
News & Interviews for The Wind That Shakes the Barley
Critic Reviews for The Wind That Shakes the Barley
Audience Reviews for The Wind That Shakes the Barley
A pair of working class Irish brothers are caught up in the troubles during the social upheaval caused by the fight for independence in 1920. Set during the same period as Neil Jordan's Michael Collins, The Wind That Shakes The Barley is a far more personal representation of the events depicted; while Jordan concentrated on the political movers and shakers of the period, Loach is far more concerned with the ordinary soldiers on the ground and the divisions that were created by the treaty of 1920. Although it centres around the ordinary working class folk of Ireland, I couldn't help the feeling that we didn't really get to know any of them on a personal level leaving little room for emotional attachments; we saw their political views and passions but learn little of them as people. Although its documentary style is more believable and gives a real sense of "being there" I felt Michael Collins had a stronger centre in the form of Liam Neeson's powerhouse performance and the wider scope had more value as a piece of entertainment. This film is still a powerful window on a tragic piece of Irish history however and if watched in conjunction with Jordan's biopic, makes for a extremely interesting companion piece.
This film tackles head on the all-consuming power of an idea and the evolving nature of that idea in the face of reality. Like other films about the liberation movement in Northern Ireland such as Paul Greengrass' Bloody Sunday or Steve McQueen's Hunger, it is brutal, difficult to watch, and enraging. However, even in the face of these atrocities committed by the British, Loach shows that this isn't the timeless battle of good vs. evil, but rather one group of humans subjugating another. The monsters are in many ways innocent themselves and the oppressed are capable of the same barbarism showcased by their oppressors. It is an important film and one that is exceptionally well made.
½
A well-done, powerful story concerning the battle for Ireland amongst the IRA (led by Cillian Murphy) against the power-hungry British during the 1920's. Director Ken Loach picked out some really gorgeous backdrops to film this story, and this add to his overall epic scope concerning the themes of loyalty, freedom, and family. Murphy's wonderful turn can not be understated, as he remains a scrawny but intense hero whose shift in character is handled exceptionally well. The movie overall is not a masterpiece, given it has some slow parts as well as a mega-depressing ending that needed a little more closure. Still a fine film in many respects, and definitely worth a view.
Dan Schultz
Super Reviewer
The Wind That Shakes the Barley Quotes
| | |
| --- | --- |
| Rory: | They're more important than a bunch of fucking groceries! A little clarity in the name of God. |